All month long, we're featuring some of our favorite authors, along with a quick Q&A and some of their favorite recipes. We've got daily giveaways with chances to win some amazing (and steamy!) reads plus a month-long Recipes for Romance Grand Prize Giveaway for a box filled with books and more!
Today Cindi Madsen stopped by with a recipe for Peanut Butter Fudge!


**Q&A with Cindi Madsen**
What is your favorite holiday tradition?
Putting up the tree has always been a tradition I love. I also love Christmas morning when all the magic is in the air & everyone's opening presents.
What is your most unusual holiday memory?
I'm trying to think of something unusual. The thing that comes to me is how my entire family used to drive up to the mountains to get a Christmas tree, all seven of us in the cab of my dad's truck-one cab, no second row. We were basically two deep & when my mom opened the passenger door, she and whichever of my brothers or sisters was on her lap tumbled out into the snow. We all laugh about that memory.
What was your favorite moment under the mistletoe?
I feel a bit jipped because I've never had an under-the-mistletoe moment. I think I better remedy this year & hang a sprig over my doorway for when my hubby comes home.
What's your favorite Christmas carol or holiday movie?
My husband and I watch Just Friends every year because it's a funny movie, plus, you know, Ryan Reynolds. In An Officer and a Rebel, Kelsey talks about how while she usually avoids overly cheesy movies, Christmas movies are the exception. That was based on my Christmas-movie-watching habits. I watch movies I wouldn't normally admit to because they make it feel like Christmas.
What's the sexiest gift you ever got/gave?
Well, I love shoes. My husband got me a red pair covered in black lace. He called them lingerie for the feet. lol

Peppermint Mocha or Pumpkin Spiced Latte?
I love pumpkin stuff, but I actually don't drink coffee. So how about hot chocolate with a pumpkin muffin?
Egg Nog or Apple Cider?
I must be picky about Holiday drinks because both make me wrinkle my nose. If I HAD to choose, I'd go apple cider. (Funny enough, Kelsey and Nate argue about Egg Nog in my novella)
Themed Christmas Tree or HodgePodge?
I like themed, but since I have little kids it's hodgepodge, and I find I like it that way too.
Old School Bulbs or Icicle Lights?
Old school bulbs
During this Holiday Season, is it better to Give or Receive?
Give. There's nothing like seeing your loved ones' faces light up.
**About Cindi Madsen**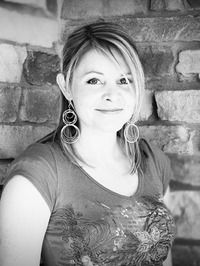 Cindi Madsen sits at her computer every chance she gets, plotting revising, and falling in love with her characters. Sometimes it makes her a crazy person. Without it, she'd be even crazier. She has way too many shoes, but can always find a reason to buy a new pretty pair, especially if they're sparkly, colorful, or super tall. She loves music, dancing, and wishes summer lasted all year long. She lives in Colorado (where summer is most definitely NOT all year long) with her husband and three children. She is the author of YA books All the Broken Pieces, Cipher, and Demons of the Sun and adult romances Falling for Her Fiancé, Act Like You Love Me, and Cinderella Screwed Me Over.
Find Cindi Here: Website | Facebook | Twitter | Goodreads
We can't wait to try out Cindi's delicious recipe for:
**Peanut Butter Fudge**
Message from Cindi:
Whenever my mom would make this & put it somewhere to set, my siblings & I would always walk by & pinch off a piece so that by the time my mom went to get it, it'd already be half gone.

| | | | |
| --- | --- | --- | --- |
| Desserts | Prep Time: 5 min | Cook Time: 5 – 10 min | Serves: dessert for a family |
Ingredients:
3 C sugar
2 T cocoa
½ cube butter
1 can evaporated milk
2 tsp vanilla
3 T peanut butter
Directions:
Mix sugar, cocoa, butter & evaporated milk in a saucepan & boil until a soft ball forms when you put a drop of the mixture in water. Set in sink of cold water for 8 minutes. Stir in vanilla & peanut butter. Set in a buttered pan.
Want more Desserts? Get recipes for Desserts and lots of other delectable holiday dishes from your favorite authors all month long right here on Steamy Guys After Dark!

**About An Officer and a Rebel**

An Officer and a Rebel by Cindi Madsen
Series: Stranded with a Hero
Published by Entangled: Bliss on November 11, 2013
Pages: 350
The last person police
officer Nate Walsh expected to discover in a snowstorm is his brother's
ex and former town rebel, Kelsey Cooper. She's his complete opposite and
totally off-limits, but as they wait out the storm together, all he can
think is how he wishes she'd stay forever.
Don't miss out on our posts featuring the other stories in this anthology:
Dec 2 — Karen Erickson, author of Loving Mindy
Dec 13 — Roxanne Snopek, author of Saving the Sheriff
Dec 26 — Coleen Kwan, author of White-Hot Holiday
Other Books by Cindi Madsen:
Don't forget to enter our month-long Recipes for Romance Grand Prize Giveaway for a box filled with books and more!
Happy Holidays!
xo-
The Steam Team

Related Posts