All month long, we're featuring some of our favorite authors, along with a quick Q&A and some of their favorite recipes. We've got daily giveaways with chances to win some amazing (and steamy!) reads plus a month-long Recipes for Romance Grand Prize Giveaway for a box filled with books and more!
Today Brenda Novak stopped by with a recipe for Quick Pumpkin Spice Cupcakes!


**Q&A with Brenda Novak**
What is your favorite holiday tradition?
Every year for Christmas Eve I make handmade egg noodles. They are such a labor of love (they take me hours! LOL), but the chicken noodle soup I make with them is a family favorite, so the kids look forward to that special dinner all year long. I love being able to serve something they enjoy that much and love to have them home again.
What is your most unusual holiday memory?
One time someone (I won't say who!) gave me what I thought was a See's gift certificate. I LOVE See's, so I was happy and thanked them profusely. After they left, when I opened the holder, I found that it was empty. LOL!!
What was your favorite moment under the mistletoe?
Slow dancing with one of my little boys to Christmas music (they are too old to allow this now and may deny it ever happened, but I remember those moments fondly).
What's your favorite Christmas carol or holiday movie?
Planes, Trains And Automobiles is my favorite Christmas movie. It's funny, but it also has a deeper meaning. I love it!
What's the sexiest gift you ever got/gave?
A fireman calendar? They were selling them to raise money! Ha!

Peppermint Mocha or Pumpkin Spiced Latte?
Peppermint Mocha!
Egg Nog or Apple Cider?
Do I really have to pick? I'll take either!
Themed Christmas Tree or HodgePodge?
Themed.
Old School Bulbs or Icicle Lights?
Icicle lights (although I love the old school bulbs–they don't fit my theme).
During this Holiday Season, is it better to Give or Receive?
Both! I'm going to treat myself to a nice vacation this year. 🙂
**About Brenda Novak**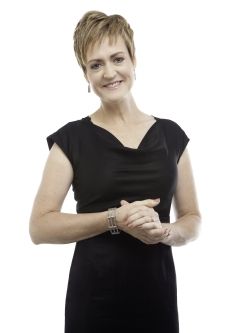 It was a shocking experience that jump-started Brenda Novak's bestselling author career.
"I caught my day-care provider drugging my children with cough syrup and Tylenol to get them to sleep while I was away," Brenda says. "It was then that I decided that I needed to do something from home."
However, writing was the last profession she expected to undertake. In fact, Brenda swears she didn't have a creative bone in her body. In school, math and science were her best subjects, and when it came time to pick a major in college, she chose business.
Abandoning her academic scholarship to Brigham Young University at the age of 20 in order to get married and start a family, Brenda dabbled in commercial real estate, then became a loan officer.
"When I first got the idea to become a novelist, it took me five years to teach myself the craft and finish my first book," Brenda admits. "I learned how to write by reading what others have written. The best advice for any would-be author: read, read, read…."
Brenda sold her first book, and the rest is history. Many of her novels have won or placed in contests such as the National Reader's Choice, the Bookseller's Best, the Write Touch, the Award of Excellence and the Beacon Award for Published Authors.
Brenda and her husband, Ted, live in Sacramento and are the proud parents of five children—three girls and two boys. She juggles her writing career with her children's softball and soccer games, field trips, carpool runs and homework sessions.
When she's not spending time with her family or writing, Brenda is usually working on her annual fundraiser for diabetes research—an on-line auction held at her website May 1st – May 31st. Her youngest son, Thad, has diabetes, and Brenda is determined to help him and others like him. She also enjoys traveling, watching sporting events and biking–she rides an amazing 20 miles every day!
Find Brenda Here: Website | Facebook | Twitter | Goodreads
We can't wait to try out Brenda's delicious recipe for:
**Quick Pumpkin Spice Cupcakes**
Message from Brenda:
Don't like spice cake? This recipe also works with carrot cake or chocolate cake mix equally well.
Ingredients:
1 box spice cake mix
1 can pumpkin (NOT pumpkin pie filling)
Directions:
Preheat oven to 350
Mix cake mix and pumpkin together (don't worry–it'll come together). Use an ice cream scoop to scoop into muffin tins (use liners for more moist cupcakes)
Bake 25-30 minutes
Let cool
Sprinkle with powdered sugar.
Want more Desserts? Get recipes for Desserts and lots of other delectable holiday dishes from your favorite authors all month long right here on Steamy Guys After Dark!

**About When Snow Falls**

When Snow Falls by Brenda Novak
Series: Whiskey Creek
Published by Harlequin Mira on October 23, 2012
Pages: 448
After growing up in cheap motels, moving from town to town with her sister and mother, Cheyenne Christensen is grateful to be on her own. She's grateful, too, for the friends she found once her family settled in California. But she's troubled by the mystery of her earliest memories, most of which feature a smiling blonde woman. A woman who isn't her mother.

Although Cheyenne has repeatedly asked for explanations, the people who could help aren't talking. Cheyenne is set on finding answers, but without so much as a birth certificate, it won't be easy.

Things get even more complicated when her closest friend is attracted to the man Cheyenne has secretly loved for years. For Eve's sake, she decides to step aside — which lands her right in the arms of Dylan Amos, oldest and baddest of the hell-raising Amos brothers. He's the kind of guy she's sworn to avoid. She can't afford to make a mistake, not when she finally has a chance to learn who she really is and change her life for the better. But . . . maybe there's more to Dylan than she thought. Maybe letting him go would be a bigger mistake.
Other Books in Whiskey Creek Series:
Other Books by Brenda Novak:
***GIVEAWAY***
Win autographed copies of the first three books in the Whiskey Creek series: When Lightning Strikes, When Snow Falls, and When Summer Comes!
a Rafflecopter giveaway
Don't forget to enter our month-long Recipes for Romance Grand Prize Giveaway for a box filled with books and more!
Happy Holidays!
xo-
The Steam Team

Related Posts