All month long, we're featuring some of our favorite authors, along with a quick Q&A and some of their favorite recipes. We've got daily giveaways with chances to win some amazing (and steamy!) reads plus a month-long Recipes for Romance Grand Prize Giveaway for a box filled with books and more!
Today Amy Andrews stopped by with a recipe for Christmas Window Biscuits!


**Q&A with Amy Andrews**
What is your favorite holiday tradition?
Trimming the tree! Dec 1st every year without fail. Down Jan 1st.
What is your most unusual holiday memory?
When we were first married my hubby and I ice-skated on a frozen lake on Christmas day in Switzerland. Well I did, he spent most of the time on his butt J That may not be unusual to those in the Northern hemisphere but for this girl more used to a sweltering, tropical Christmas it was *most* unusual. Also serenely, magically beautiful!
What was your favorite moment under the mistletoe?
Unfortunately, mistletoe really isn't a tradition here in Australia (sob!) so I've never been kissed underneath it L But one of my fav TV mistletoe moments was when Bones and Booth had their lovely pash under a sprig in her office – very hot!
What's your favorite Christmas carol or holiday movie?
Ooh, I love Christmas carols and there's so many… I think maybe Deck The Halls With Boughs Of Holly because it's just so festive!
What's the sexiest gift you ever got/gave?
I gave my hubby once a tiny porcelain jug from an antique shop that has rather er….erotic images hand-painted in miniature on it!

Peppermint Mocha or Pumpkin Spiced Latte?
Oh dear…..can I have tea? Or a hot chocolate instead? Or, depending on the hour, maybe a nice glass of Shiraz? Not a coffee-drinker…
Egg Nog or Apple Cider?
Egg Nog.
Themed Christmas Tree or HodgePodge?
Hodge Podge
Old School Bulbs or Icicle Lights?
Old school!
During this Holiday Season, is it better to Give or Receive?
Give – always!
**About Amy Andrews**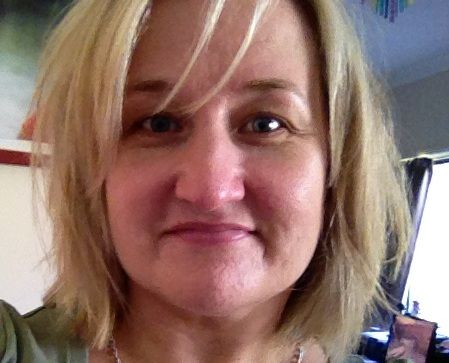 Amy Andrews is an award-winning author with 30+ contemporary romance novels to her name. She's sold over a million books worldwide across both traditional and digital platforms as well as being translated into a dozen different languages including Manga! She loves her kids, her husband, her dogs, men in tool belts and happily ever afters. Please do not mess with her HEA! Also good books, fab food, great wine and frequent travel – preferably all four together. She lives on acreage on the outskirts of Brisbane with a gorgeous mountain view but secretly wishes it was the hillsides of Tuscany.
Find Amy Here: Website | Facebook | Twitter | Goodreads
We can't wait to try out Amy's delicious recipe for:
**Christmas Window Biscuits**
Message from Amy:
When my kids were in primary school it was traditional to give their teachers a gift at the end of the year – extra brownie points for homemade food! J I started doing these biscuits because they're so visually spectacular and cooked them every year just for the teachers! And, yes, an extra batch just for us 🙂

| | | | |
| --- | --- | --- | --- |
| Desserts | Prep Time: 15 mins (plus chilling time) | Cook Time: 15 mins. | Serves: 30 |
Ingredients:
200g butter
130g caster sugar
1 egg, lightly beaten
1 teaspoon vanilla essence
1 tablespoon of milk
1 teaspoon baking powder
275g plain flour
5 tablespoon each of crushed red, green and yellow boiled sweets.
Directions:
Preheat oven to 180 C/375 F. Line 2 baking trays with baking paper.
Beat together the butter and sugar with electric mixer until light and creamy.
Add the egg and beat thoroughly.
Add vanilla and milk and beat until combined.
Using a spoon, fold in the baking powder and flour and stir until just combined and the mixture is almost smooth.
Turn the dough onto a lightly floured surface and knead until smooth. Cover with cling film then chill in fridge for 1 hour.
When hour is up, roll out dough to 3mm thickness.
Using a pastry wheel, cut it into 9 x 6 cm rectangles.
Place the rectangles on prepared trays leaving enough room for the biscuits to spread.
Using Xmas themed cookie cutters carefully cut out windows in the middle of the biscuits.
Fill the spaces with crushed boiled sweets level with the surface of the biscuits.
Bake for 15 mins or until sweets have melted and the dough is firm and lightly golden.
Remove from oven and leave stand on trays for 2 mins before transferring with the baking paper to wire racks to cool.
When cool remove the baking paper.
Want more Desserts? Get recipes for Desserts and lots of other delectable holiday dishes from your favorite authors all month long right here on Steamy Guys After Dark!

**About 'Tis the Season to Be Kissed**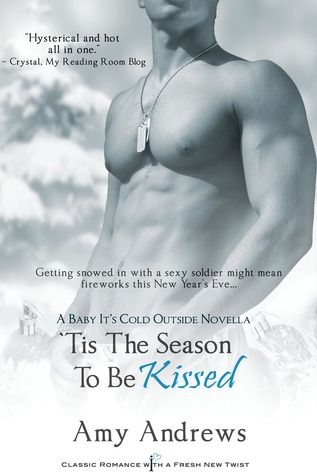 'Tis the Season to Be Kissed by Amy Andrews
Published by Entangled: Indulgence on November 15, 2013
Pages: 55
A down-on-her-romantic-luck kindergarten teacher plans to drown her New Year's Eve sorrows in a gallon of spiked eggnog, but the arrival of her best friend's sexy brother threatens to melt the snow piling up outside the tiny Vermont cabin.
Other Books by Amy Andrews:
Other Books in Series:
***GIVEAWAY***
Win a copy of Tis The Season to Be Kissed!
a Rafflecopter giveaway
Don't forget to enter our month-long Recipes for Romance Grand Prize Giveaway for a box filled with books and more!
Happy Holidays!
xo-
The Steam Team

Related Posts