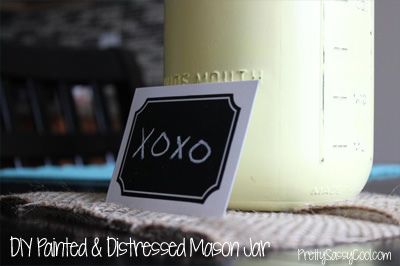 We've all heard the old adage that it's the little things that mean the most. I feel like that's especially true in relationships, specifically marriage. Now, I'm no expert by any means; I'm young (25) and have only been married for about 2 years, but in that time I've learned that while grandiose gestures are meaningful, it's the little things that show your loved one that you care and you're thinking of them when they aren't with you.
I woke up recently and decided to leave a little surprise for when my wife returned home from work. A little backstory: I work night shift and as such, my wife and I are on opposite schedules. The only time we really see each other and get to talk in person is on the weekends, so I figured it'd be nice to do something to let her know I'm thinking of her even though I'm not around much during the week.
We both really love rustic designs and themes, so I had the perfect idea. While watching a YouTube video recently I saw some mason jars that had been painted and distressed and I LOVED the way they looked. I decided to recreate that look and use it for a flower vase. It was incredibly simple and all together took me about an hour to finish.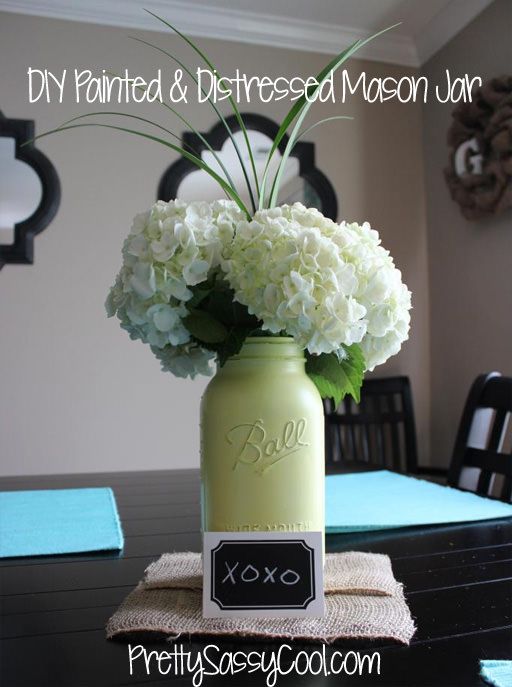 First things first: gather all the pieces you'll need.
For this project I used:
a large mason jar (found one at Michael's for $4),
a can of spray paint in my desired color,
a piece of fine grit sand paper,
and a spray can of polyurethane.
Set up your area to paint in a well-ventilated area that isn't too windy. It will probably take 3-4 coats before your jar is looking good. Allow the paint to dry completely before lightly running your sand paper over the raised portions of the jar to give it that distressed look that you're going for. Once you're satisfied with how your jar looks, take a cloth and wipe away the dust from the surface of the jar.
Now, for this next step I used a spray can of polyurethane…some people prefer to use wax, but I find that the spray poly is easier. Lightly coat your jar with the poly, allowing it to dry completely in between coats. I applied three coats to my jar. Once the final coat of poly dries you're ready to add whatever accessories you'd like to your jar. I chose to use mine as a flower vase, but I've seen them used as make up brush holders, vases, and just plain old decorations.
Hopefully, you love your finished product as much as I, and my wife, loved mine.
→Let us know what you think, pretties! Ready to tackle this fun and simple DIY project on your own? When you do, be sure to send us a pic!

#pscDIY

←
Related Posts