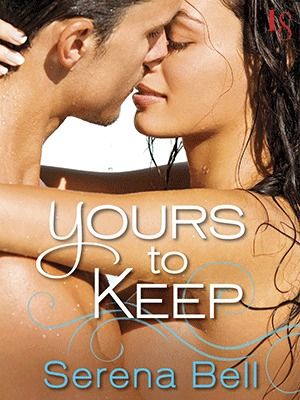 Yours to Keep
by
Serena Bell
Published by
LoveSwept
on November 11, 2013
Genres:
Contemporary Romance
Pages:
304
Goodreads
Buy the Book
Serena Bell makes her Loveswept debut with the captivating story of a woman living on the edge—and the man who's destined to love her.

Ana Travares has been looking over her shoulder her whole life. Her U.S. visa expired when she was a young girl, and if her secret is discovered, she'll be forced to return to the Dominican Republic. Ana allowed herself to get close to someone once before—and after he broke her heart, she swore never to make the same mistake again. But when a handsome doctor asks for her assistance, she fantasizes about breaking all her rules.

Even though pediatrician Ethan Hansen is a natural when it comes to little kids, as the single father of a teenage son he just can't seem to get it right . . . except for the Spanish tutor he's hired for his son, Theo. Ana has managed to crack Theo's shell—and he isn't the only one taken with her. The sexy tutor has fired up Ethan with a potent mix of lust and protectiveness. But as he starts to envision a future with Ana, Ethan is devastated to learn the truth about her citizenship. Somehow he's got to find a way to help her—and hold on to the woman he's falling hopelessly in love with.

Kassiah: Yours to Keep featured lovable characters, authentic dialogue and storyline, and sizzling hot chemistry. Author Serena Bell tackled a plot that I've personally never read, and I loved it.
Spanish tutor Ana Traveres is an illegal immigrant who lives in constant fear of being sent back to the Dominican Republic. When the gorgeous Dr. Ethan Hansen overhears his son's principal getting more than overly familiar with Ana, he comes to her rescue, and asks for her to tutor his son. She finally agrees, even though she's been trying to stay out of the limelight as much as possible. Throughout it all, we learn about Ethan and how he's been dealing with being a single parent since his wife died eight years ago and Ana's dealing with US immigration troubles and trust issues because of her previous boyfriend. Eventually, of course, Ana gives in to her resistance to Ethan and sparks fly.
"We're going on a date."

"I don't want to go on a date. I want you to kiss me like that for hours. And you can do other stuff at the same time if you want, but I don't want you to stop kissing me."
And my rob, when they're in the car and he says, "I want to feel how hot you are." *fans self* It's hot.
I really loved these characters. Ethan was pretty swoony, and Ana was definitely a character that I was rooting for. I loved Ethan's son, Theo, too. I didn't like Ana's brother, and while I understand the reason for the education on illegal immigrants living in the United States, I wasn't necessarily crazy about a political agenda being pushed on me. Also, some of the descriptions went on and on a bit too much. As far as the romance and story and other characters go, though, I loved it.
Even though we knew where this story was headed, I thought it got there in an original way and I was surprised by how much I enjoyed reading this. This was the first thing that I read by Bell, but I will definitely be checking out everything else she ever writes. You should, too.
Report Card
Cover
Characters
Plot
Writing
Steam
Overall:
4
We are so excited to participate in the blog tour for Yours to Keep. We had author Serena Bell stop by to catch up with us for a few minutes and answer the question that people are always asking authors: "How much do you draw from real life?"
On a large scale, almost not at all. But when it comes to certain details—liberally.

For example, Yours to Keep is a story about an undocumented immigrant, Ana Travares, who avoids intimacy because she doesn't want anyone to know what she's hiding, and the sexy pediatrician-and-widower who is determined to win her over, crack her secrets wide open, and leave her limp and satisfied. Not autobiographical (mostly).

However, all this holiday goodness crept into Yours to Keep as I was writing it—a Thanksgiving that reminds two families of what they're thankful for, and a Christmas celebration that reminds all of us that love is bigger than anger, prejudice, or even football. And in those celebrations, I couldn't help stealing tidbits from what I know.

Ethan had set out a cheese plate, and Ted was eating cheese as fast as he could slice it. Sheila nibbled delicately at a piece of Brie draped over a cracker.

And, later:

[Also on the Christmas menu was] the world's most absurd cheese plate courtesy of Ethan's father, who said that Christmas wasn't Christmas unless you ate Brie until you made yourself sick.

My family's holiday celebrations tend to be a little offbeat—we've celebrated just about every version of the winter holidays you can imagine, from the most traditional turkey-and-stuffing Thanksgiving to the wildest smorgasbord of unconventional dishes, from a tree-and-gifts Christmas to "let's just celebrate the winter solstice with Chinese food."

But there's one thing you can count on at all of them—there will be cheese. Brie, aged gouda, Chevre, Manchego, Camembert, Morbier (my personal favorite) … I could go on and on. In fact, most years, cheese and appetizers outweigh the meal on the table by several pounds, and we've often lamented the fact that we're never actually hungry any more by the time dinner is served. But not with much intensity, because we all love the cheese best.

So here's the truth behind the fiction: Ethan's father has no claim on the most absurd cheese plate on earth.

I've seen it on my mother's coffee table.
Serena also wrote a guest post for us about Children in Romance:
Thank you so much for joining me today at Steamy Guys After Dark, the latest stop on my Yours to Keep tour. I'm thrilled to be here, discussing the role of children in romance (and there's a comments section below so you can tell me there isn't a role for children in romance ).
Yours to Keep is the story of Ana, a Dominican American Spanish tutor who is falling head over heels in love with the father of one of her students and doesn't know how to tell him she's living in the U.S. on an expired visa. But as much as Ana wants to keep her secrets close to her heart, Ethan— a pediatrician who Ana describes to her sister as "a very professional, clean-shaven Viking"—wants to learn everything there is to know about the gutsy and sexy new woman in his life.
I've sometimes heard people refer to badly written children in romance as "plot Moppets"—in other words, cute, but only there to move the action forward. When I realized that Ethan had a son, I knew I wanted him to be more than a plot moppet. I wanted him to be a real character. Even more, I wanted Yours to Keep, to be not only an intense love affair between Ethan and Ana, but also the story of how a family falls in love. So in the course of the book, Theo opens his heart to Ana, Ana to Theo, and Ethan to the renewed possibility of family. Each opening is an act of faith, just like the act of falling in romantic love. In order to risk your heart when you've been wounded, in order to tread where you've lost before, you have to heal your wounds, know yourself, and find a way to quiet your worst self, whether what you're seeking is romantic or platonic connection.
Plus, Theo's funny. He is a very young fifteen, and sometimes he's more like eight, and sometimes he's more like 70. He observes things about the way the world works (and doesn't quite work), and about how people behave, that no adult would be able to see. And he provides comic relief, which is helpful, because Ana's troubles are serious.
There are a number of other children in the book as well, and I tried to give them all distinct personalities. Ana and Ethan both work closely with children, so they see each child as unique. They love and deeply invest in the children in their own and each other's lives, which makes them very lovable, part of why it's wrenching to see them denying themselves love—and why it's so rich and redemptive when they find their HEA.
About Serena Bell
Serena Bell writes stories about how sex messes with your head, why smart people do stupid things sometimes, and how love can make it all better.
Serena wrote her first steamy romance before she was old enough to understand what all the words meant and has been perfecting the art of hiding pages and screens from curious eyes ever since—a skill that's particularly useful now that she's the mother of two school-aged children.
Serena took a break from penning love stories to explore the world as a journalist, where she spent time shadowing and writing about a cast of fascinating real-life characters.
She recently survived a cross-country move and is still plucking dishtowels out of her lingerie drawer. When she's not scribbling stories or getting her butt kicked at Scrabble by a seven-year-old, she's practicing modern dance improv in the kitchen, swimming laps, needlepointing, hiking, or reading on one of her large collection of electronic devices.
Serena is a member of RWA and blogs regularly about writing and reading romance at www.serenabell.com and www.wonkomance.com. She also tweets like a madwoman as @serenabellbooks.
Find Serena Here:
Website | Facebook | Twitter | Goodreads
***GIVEAWAY***

Please join the conversation below by telling us the name of your favorite cheese, or, if you'd rather something unusual and quirky about the way your family celebrates the holidays. And don't forget to enter the Rafflecopter giveaway below to win books and/or a gift card!
Rafflecopter giveaway ends December 1,2013 at 11:59 p.m.
a Rafflecopter giveaway
Please visit
the other great sites on the tour
and join us in celebrating Thanksgiving and the rest of the winter holiday season!
Related Posts