We're so excited to let you know about Yours to Keep by Serena Bell today. We loved this so much and can't wait to let you know all the things! We'll be posting our review of Yours to Keep later this month (along with another awesome giveaway). In the meantime, Loveswept is giving two of our lucky readers their very own copies of Yours to Keep! Check out the deets and excerpt for this awesome book and then enter below!
***About the Book***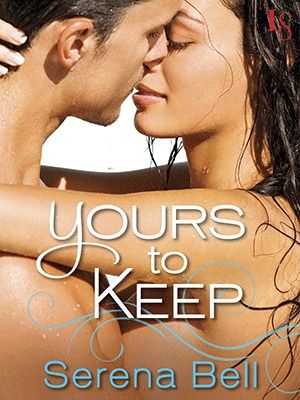 Yours to Keep
by
Serena Bell
Also by this author:
Yours to Keep
Published by
LoveSwept
on November 11, 2013
Genres:
Contemporary Romance
Goodreads
Buy the Book
Serena Bell makes her Loveswept debut with the captivating story of a woman living on the edge—and the man who's destined to love her.

Ana Travares has been looking over her shoulder her whole life. Her U.S. visa expired when she was a young girl, and if her secret is discovered, she'll be forced to return to the Dominican Republic. Ana allowed herself to get close to someone once before—and after he broke her heart, she swore never to make the same mistake again. But when a handsome doctor asks for her assistance, she fantasizes about breaking all her rules.

Even though pediatrician Ethan Hansen is a natural when it comes to little kids, as the single father of a teenage son he just can't seem to get it right . . . except for the Spanish tutor he's hired for his son, Theo. Ana has managed to crack Theo's shell—and he isn't the only one taken with her. The sexy tutor has fired up Ethan with a potent mix of lust and protectiveness. But as he starts to envision a future with Ana, Ethan is devastated to learn the truth about her citizenship. Somehow he's got to find a way to help her—and hold on to the woman he's falling hopelessly in love with.
***Excerpt***
About Serena Bell
Serena Bell writes stories about how sex messes with your head, why smart people do stupid things sometimes, and how love can make it all better.
Serena wrote her first steamy romance before she was old enough to understand what all the words meant and has been perfecting the art of hiding pages and screens from curious eyes ever since—a skill that's particularly useful now that she's the mother of two school-aged children.
Serena took a break from penning love stories to explore the world as a journalist, where she spent time shadowing and writing about a cast of fascinating real-life characters.
She recently survived a cross-country move and is still plucking dishtowels out of her lingerie drawer. When she's not scribbling stories or getting her butt kicked at Scrabble by a seven-year-old, she's practicing modern dance improv in the kitchen, swimming laps, needlepointing, hiking, or reading on one of her large collection of electronic devices.
Serena is a member of RWA and blogs regularly about writing and reading romance at www.serenabell.com and www.wonkomance.com. She also tweets like a madwoman as @serenabellbooks.
Find Serena Here:
Website | Facebook | Twitter | Goodreads
Praise for Yours to Keep:
"Yours to Keep is a timely, richly written emotional romance with complex characters readers will fall in love with."—New York Times bestselling author JoAnn Ross
"I adore Yours to Keep. It's sexy and incredibly smart, with a unique, compelling plot and a hero and heroine I love. I was blown away by the authenticity of the emotion and how real the characters felt, especially when combined with great drama and delicious romance. I was completely wrapped up in this story!"—New York Times and USA Today bestselling author Noelle Adams
"My heart swelled, ached, and rejoiced for the vibrant characters of Yours to Keep, an impeccably written and realistic romance that has earned Serena Bell's work a spot on my auto-buy list."—New York Times bestselling author Gina L. Maxwell
"A touching, emotional, realistic, and sexy contemporary romance with a thought-provoking them. [There's a] hero to die for and a heroine you want to hang out with. What could be better than that?"—New York Times and USA Today bestselling author Theresa Weir (aka Anne Frasier)
"Sexy, emotionally rich, and heartbreakingly lovely."—Ruthie Knox, USA Today bestselling author of Roman Holiday
"Serena Bell weaves a sultry, satisfying romance into a heartbreakingly authentic story."—USA Today bestselling author Megan Mulry
"Serena Bell writes romance about real people with real problems. Yours to Keep is timely, sexy, and very, very good. Highly recommended."—Molly O'Keefe, bestselling author ofWild Child
"Serena Bell delivers a fully adult romance with authentic characters, genuine stakes, and the kind of sweet, hot yearning that turns pages and stops your breath."—Mary Ann Rivers, author of Live
"I love this book on so many levels."—Fab Fantasy Fiction
"Sweet, drama filled . . . a nail biter [with] swoons galore . . . steamy hot . . . a make-you-tear-up-and-smile book."—The Book Hammock
***GIVEAWAY***
Immigration is a timely topic today and people share various views. Question for readers, would you like to see more books dealing with real life concerns or do you enjoy escapism stories – or a little bit of both is what you're after? Comment below to win one of two random book giveaways of YOURS TO KEEP – good luck!!
Related Posts