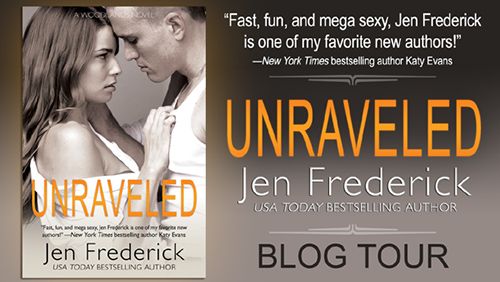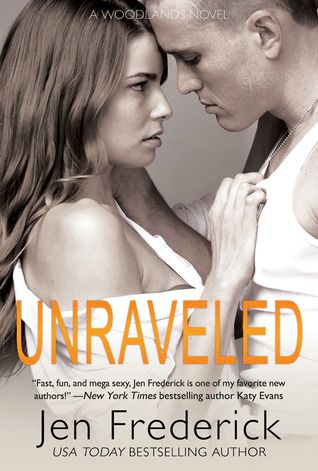 Unraveled
by
Jen Frederick
Also by this author:
The Charlotte Chronicles
Series:
Woodlands #3
Published by
Pear Tree LLC
on January 19, 2014
Genres:
Contemporary Romance
,
New Adult
Pages:
280
Goodreads
Buy the Book
Twenty-five-year-old Sgt. Gray Phillips is at a crossroads in his life: stay in the Marine Corps or get out and learn to be a civilian? He's got forty-five days of leave to make up his mind but the people in his life aren't making the decision any easier. His dad wants him to get out; his grandfather wants him to stay in. And his growing feelings for Sam Anderson are wreaking havoc with his heart…and his mind. He believes relationships get ruined when a Marine goes on deployment. So now he's got an even harder decision to make: take a chance on Sam or leave love behind and give his all to the Marines.

Twenty-two year old Samantha Anderson lost her husband to an IED in Afghanistan just two months after their vows. Two years later, Sam is full of regrets—that she didn't move with her husband to Alaska; that she allowed her friends to drift away; that she hasn't taken many chances in life. Now, she's met Gray and taking a risk on this Marine could be her one opportunity to feel alive and in love again. But how can she risk her heart on another military man who could share the same tragic fate as her husband?

Kassiah: *fans self* Grab a cold drink, ladies, because Gray Phillips is one hot Marine, and you're going to need something to cool off with after meeting him.
Third-generation Marine Gray is at a precipice in his life: stay in the Marines or get out and do something else. He's got a 45-day leave to make up his mind and decides to spend it with his comrades and get some clarity. On his agenda is relaxing and hooking up, but after being burned by his ex, he's definitely not looking for a relationship. And that's why when he meets Sam and they have an, ahem, unconventional first meeting, she seems like the perfect distraction.
Two years after losing her husband when he was killed in action in Afghanistan, Sam is just beginning to feel again.
It seemed like people in my life placed themselves into two general camps. There was the camp, which included my family, that was ready for me to move on from the death of my best friend, only lover, and husband of two months. The other camp wanted to enshrine me as Will Anderson's widow forevermore. I wasn't at all sure what camp I fell into, but I knew I was lonely. I was tired of being a widow, and I was tired of bartending for a living, and I was tired of having to serve as Will's avatar for the family he left behind. I guess I was in the tired and lonely camp.
Along the way, there are some misunderstandings and some mix-ups. Despite Sam's reluctance to get involved with a military guy and Gray's hesitance to get involved at all, they cannot resist each other. And it's hot.
"I need to be inside you. I want to fuck you so hard that you'll remember it tomorrow and the next day and that the next time you have a fantasy you'll be thinking of this moment and how thick and hard I was inside you."
They enjoy being with each other, and Gray makes it sort of his mission for Sam to experience some adventure in her life before he leaves. Both agree to a no-strings-attached relationship while Gray is in town, but you know what happens–is that ever enough for anyone? Not for Sam, and surprisingly not for Gray, either.
I hadn't remembered this at all, how full I'd feel, how connected I was. this wasn't temporary for me and as he stared at me, eyes glittering with a deep emotion, I guessed it wasn't just temporary for him either.
I loved a lot of things about this book. I loved Gray, and not just how hot he was. He was loyal and a total stand-up guy. He was real, and he was all about the grand gesture 🙂 I really liked Sam, but there was a part that happens that I didn't understand her reaction. Regardless, she was strong and I wanted her to get it together and let herself be happy.
I loved the relationship that all of the guys had. I haven't read the other books in the series (you better believe I'm on that now!), but how much they cared about each other was very clear. I loved the way they were with each other.
"You guys are acting like you're five." She tapped her foot by my head.

"Nah, I was still fighting like this when I was fifteen." I smiled, getting up and pulling her in for a hug. I pressed my wet body against hers for all of one second before Bo pulled me off. He and Noah picked me up and proceeded to throw me into the pool.

I kicked off my shoes and stripped off my T-shirt and shorts, throwing the whole lot up on the pool deck.

"Keep your panties on," Bo shouted as my clothing hit the concrete.

"No worries, man, I won't embarrass you by showing my package to all the girls here."

"No one wants to see your pasty white ass."

"I think you're more afraid AnnMarie will see my giant dick and leave you."
There were a few things I didn't love, like the use of the word "labia," but honestly, the dirty talk was enough to make up for it to me. That, and the fact that he demands orange juice at one point.
This is definitely a story about second chances: at love and the ability to choose to let love defy logic. I loved these characters and the way their relationship developed. I loved the path that each of them took, separately and together, to be less broken, and I loved the end. If you're looking for a super-hot hero and a fantastic romance, pick up Unraveled–you won't be sorry!
Report Card
Cover
Characters
Plot
Writing
Steam
Overall:
5
**About Jen Frederick**
Bestselling author Jen Frederick lives with her husband, child, and one rambunctious dog. She's been reading stories all her life but never imagined writing one of her own.
Find Jen Here: Website | Facebook | Twitter | Goodreads
***GIVEAWAY***
$50 Gift Card to Etailer of Your Choice and Woodlands
a Rafflecopter giveaway
Good luck!
Related Posts