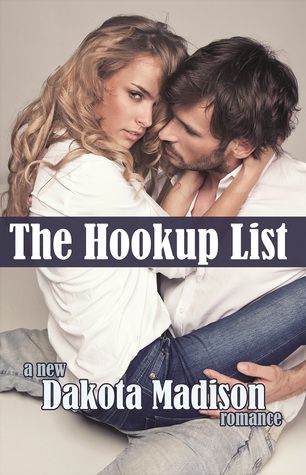 The Hookup List
by
Dakota Madison
Published by
Short on Time Books
on January 19, 2014
Genres:
New Adult
Pages:
237
Goodreads
Buy the Book
A FRESHMAN, HER ROOMMATE, A GUY and A LIST...

THE FRESHMAN: Ana Alves came to college for one reason--to be the first person in her immigrant family to earn a degree. She doesn't want anything to derail her from her pre-med studies, especially a guy.

HER ROOMMATE: Nicki Payne is ready to party and she doesn't waste any time hooking up with a guy in a frat house bathroom. Her motto: College is a time to be young, wild and free.

A GUY: Christopher Knight is the easy-going English major with a sexy smile and killer body who sits next to Ana in her Shakespeare class. Ana finds Christopher intriguing. She just doesn't want to admit that she's falling for him.

THE HOOKUP LIST: A list of freshman girls who are ready for action that's circulated to the freshman guys via a weekly Listserv. When Nicki Payne is one of the first girls featured on The Hookup List, guys start knocking on her dorm door at all hours of the day and night looking to score...

But what happens when one of those guys is Christopher?

Kassiah: This story was fine, but I feel like the title is misleading. Ana Alves is a freshman pre-med student with strict Catholic parents and a boyfriend back home. Her roommate, Nicki, and Nicki's vapid friends are only in school to party and hook up with as many guys as possible. Sparks immediately fly when she runs into the charming Christopher Knight in class, but Ana is determined to stay on track and not get mesmerized by a pretty boy.
Christopher was burned by his high school "girlfriend" and isn't looking for a relationship, but he can't resist Ana.
Ana has been trying to deny her feelings for Christopher when Nicki is placed at the top of the list with that circulates amongst the students.
It was a printout of some kind of email. It was labeled The Hookup List. "What is this?"

"This," he said as he flicked the top of the list. "Is where it all starts each and every week."

I took another look at this list. There were ten girls listed with photos and under each picture was a brief but extremely detailed description of a sexual act. There was also a time to action (recorded in minutes and seconds) and a slut score (apparently on a scale of 1-10).
Christopher shows up at her room, along with his smarmy roommate, giving Ana the wrong impression about him. That quickly gets resolved, which is the reason I don't think this book was appropriately titled. The idea for this story was a good one, but I feel like it lost itself along the way. There is a lot of drama, and I don't want to spoil anything for you, but I definitely could see this being a TV show.
I started out liking these characters. Ana was smart and didn't give in to what went against her beliefs, and I thought that Christopher said some swoony things.
"I want to kiss you," he whispered. He was still so close, his breath tickled my lips. "I've wanted to kiss you since the first time I saw you, when you were wearing that little yellow sun dress. You completely knocked me out. But I want all of you. I don't want to share you with Paulo or anyone else. When I kiss you, you'll be mine."
There were some things that I didn't love, including the total predictability and stereotypes of some of the characters, and the way Ana's relationship with Paulo was tied up into a neat (unrealistic, in my opinion) little bow. Christopher does something that I really didn't like, and I also felt like it was too PSA-esque at times. Though there is a love triangle, it really isn't central to the story, and readers who try to stay away from those will find this safe to read.
If you're looking for a quick New Adult read with drama and some spice, then check out The Hookup List. I will be checking out other titles from Madison.
Report Card
Cover
Characters
Plot
Writing
Steam
Overall:
2.5
**About Dakota Madison**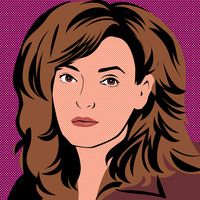 Dakota Madison has been writing since she learned to read and fell in love with books. When she's not at her computer creating spicy new romances, Dakota is traveling to exotic locales or spending time with her husband and their bloodhounds.
Find Dakota Here: Website | Facebook | Twitter | Goodreads
***GIVEAWAY***
$20 Amazon Gift Card
a Rafflecopter giveaway
Good luck and be sure to check out the other stops on the tour!
Related Posts