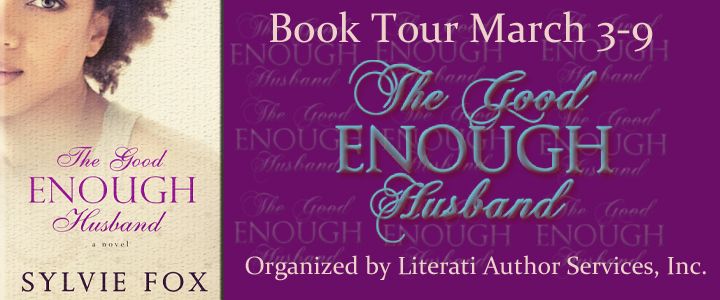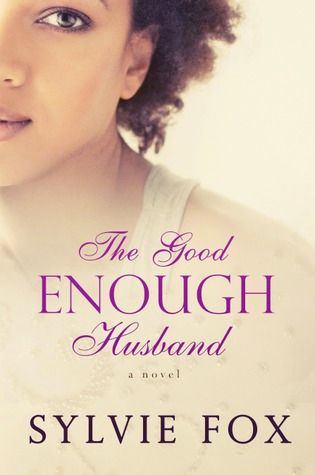 The Good Enough Husband by Sylvie Fox
Published by Penner Media on February 28, 2014
Pages: 394
What would you do if you met your soul mate, but you were already married?

In The Good Enough Husband, Sylvie Fox delivers a riveting story about a woman who refuses to let her past define her future.

For years, Hannah Morrison Keesling's marriage to Michael was good enough. Then she wakes up one morning and it isn't. Taking her puppy Cody along, Hannah drives north to put distance between herself and her past. Planning to go as far as her SUV will take her, she has to stop on the Lost Coast when her dog gets sick. There she meets small town veterinarian Ben Cooper.

Ben is the man Hannah wishes she had met first. He's perfect for her, but gun shy because he's been lied to before and vows not to be betrayed again. Hannah leaves Michael and moves to Ben's rural town to pursue a future with the man she knows is her soul mate. But Michael won't let go so easily. Forced to make a decision between the man she chose and the man she loves, Hannah soon realizes that her choices will define everyone else's consequences.
We've got an awesome excerpt to share with you today!

***EXCERPT***
"How's your butt?" Hannah Keesling's husband Michael palmed her ass, sliding his hand between her oversized sleep shirt and her bikini underwear. This was her least favorite way to wake up.
Hannah squeezed her eyes shut, the words of the one friend she'd confided her problems to, coming back to her. "Friendship is the foundation of a good marriage," she'd said piously. "When the going gets tough, remember why you chose him in the first place." She wondered what her friend would make of this.
"My butt's fine," she murmured, cracking one eye open. It was still dark. She hated how her body betrayed her, reacted to his clumsy seduction after all that had happened between them.
"You didn't ask how my cock feels." Michael prompted. Why did he have to be so coarse? Their marriage wasn't perfect, but she deserved a little respect, consideration. They'd started out as friends, added sex, then matrimony. Now it had morphed into a different thing altogether. And she was stuck in it, like a fossil in the tar pits.
Hannah fought her way from sleep, through drowsiness, to wakefulness like a diver pushing through heavy water desperate for air. She didn't have to ask how Michael's penis felt. His engorged flesh eagerly probed her back, her butt, and her legs.
"How does it feel?" she whispered, eyeing the bedside clock. It wasn't even five in the morning. The bright Southern California sun hadn't yet stolen the darkness from the room.
"Very lonely," he said. Hannah could hear a pout in his voice. The squeak of the metal springs and the rhythmic movement of the mattress told her that Michael's hand was keeping his organ company. "C'mon, turn over and take off your shirt."
Her weak flesh responded, while her stronger mind rebelled. Hannah knew she should have been more excited, more responsive, desired him like real wives wanted their husbands. Guilt flooded her veins. Her husband wanted her, and she didn't want him back. Hannah scooted away from her husband to the very edge of their bed. If this was all there was to marriage, she didn't want any part of it anymore. Michael didn't even try. Would it kill him to kiss her, light a few candles, tell her she was beautiful? The thought of thirty more years of frat boy groping killed any stirring he'd aroused.
Saying yes, pulling up her shirt, spreading her legs—that would be the easy thing. But Hannah was done. She was tired of being her husband's glorified whore. The finality of her decision made her next words come easy.
"So this is foreplay?" she asked, unable to keep the disgust from her voice.
Her remark hit the intended target. Cool air raised the gooseflesh on her naked legs and exposed back as Michael threw off the goose down duvet and stalked toward the bathroom.
"This is marriage?" he threw back at her. Michael's anger surprised her. He never fought back, just stalked off to finish the job himself. "You think I like having to beg my wife to touch me? To make me feel good?"
He was right, damn him. He couldn't know that she'd learned to steel herself against his touch. Guilt and obligation took the place of desire now. "You're right, Michael. This isn't a marriage. I don't think we can go on like this." There was no point in pointing fingers or placing blame. Reasoning with him hadn't worked no matter how many times she'd tried. Hannah knew what she had to do. She had made the decision to marry someone she wasn't in love with, and they'd both paid the price.
"God damn it, Hannah. Why do you make this so hard? I wanted a little quickie. You wouldn't have to do anything but lie there. This could have been a win-win morning. But you have to go make everything an all or nothing decision." He slammed the door. The angry squeak of the shower knobs and the unnecessary banging of razor against sink comforted her. He wouldn't be back in the bed today. She'd escaped for the moment.
***About Sylvie Fox***
Sylvie Fox writes the kinds of books she loves to read. The quirky characters in her romance novels experience passion, angst, and conflict, but always get their "happily ever after." She lives in Los Angeles with her husband, son, and a handful of rescued pets. When she's not hanging out in Hollywood, she's eating her way through Budapest.
Find Sylvie Here: Website | Facebook | Twitter | Goodreads
***GIVEAWAY***
Your Choice of $20 Amazon or Barnes & Noble Gift Card
a Rafflecopter giveaway
Good luck!
Related Posts