With super steamy times and authentic characters we ♥, Indulgence, the very first imprint from Entangled Publishing, has some of our favorite books. We get the romance we want and the fantasy men we can't get enough of! Their new covers show off those rough and ready cowboys, CEOs, and alpha tycoons we crave. Join us in celebrating the brand new look of Indulgence!
We're excited to shine the spotlight on an exciting new Indulgence Release: The Billionaire's Matchmaker Anthology, written by four award winning authors: Shirley Jump, Susan Meier, Jackie Braun, and Barbara Wallace!
While written in four parts, The Billionaire's Matchmaker isn't your ordinary anthology. Rather it's a four part book – a sisterhood of a traveling pooch – in which one feisty Jack Russell changes the lives of four friends. To learn what happens to everyone, including Charlie and his mysterious owner, you have to read from cover to cover.
You can get The Billionaire's Matchmaker bundled together for just $2.99, or you can purchase each individual part for only 99¢: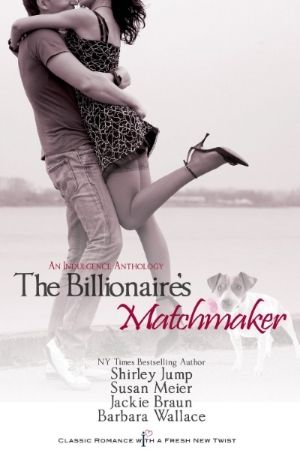 The Billionaire's Matchmaker
by
Barbara Wallace
,
Jackie Braun
,
Shirley Jump
,
Susan Meier
Also by this author:
Love Unleashed
,
Driving Mr. Wrong Home
,
Her Summer with the Marine
,
The Sheriff's Secret
,
Chasing the Runaway Bride
Published by
Entangled: Indulgence
on May 19, 2014
Genres:
Contemporary Romance
Pages:
213
Goodreads
Buy the Book
An Anthology by Shirley Jump, Susan Meier, Jackie Braun, and Barbara Wallace

 Can a feisty four-legged matchmaker help four best friends find the romance of their dreams?

When a handsome man from Gabby's past agrees to a cross-country road trip, her master plan to re-launch her art career quickly morphs into an unexpected, romantic reunion.

Marney's 9-1-1 emergency help arrives in the form of a rugged, blue-eyed cop. Now she has the perfect bodyguard to keep her safe during those dark, steamy nights…

The last thing Mia wants is a relationship…yet the headstrong florist can't keep her hands off her sexy-as-sin ex-boyfriend.  Will she open her heart before he leaves town for good?

Jenny is a woman on a mission – she'll even resort to dognapping to make her point! But can she teach a reclusive, emotionally-wounded tycoon that love heals all things?
Today we're bringing you samples from the beginning of the story and the end. We know you'll be just as excited to read the whole story as we are!

From Driving Mr. Wrong Home by NY Times Bestseller Shirley Jump (Part 1 of The Billionaire's Matchmaker)
***EXCERPT***
T.J. trudged up the snowy hill, spread their sandwiches on the wooden surface, and set down their drinks. As soon as he was released from his leash, Charlie bounded off, excited to have some room to run and explore. The dog stayed close, circling out and back around, leaving a trail of tracks peppered into the snow.
"Mr. B would kill me if he knew Charles Osgood was outside without his little wool coat on."
"He is wearing a coat," T.J. said. "The one God gave him."
She laughed. "True. Well, I won't tell if you don't."
He made a motion of zipping his mouth closed. "My lips are sealed."
That drew her attention to his mouth and to thoughts of kissing him.
Damn, he looked good, with the dark hair she remembered, now a little longer and with a wave that swung across his forehead. She had the strangest urge to brush that hair back, to let her hands tangle in the locks, to draw him closer to her, to-
Kiss him.
Instead, she talked, keeping her mouth busy with something other than T.J. "What's with you and this adventure thing? You used to be the one I had to convince."
His mouth quirked. "Do I detect a little surprise? At not being in control?"
"I can turn the tables on you so fast, your head will spin."
He leaned back on the bench, crossed his arms over his chest, and smiled. "Oh yeah? I'd like to see you try."
The challenge roared inside her, awakening the old Gabby. It spurred her to stand up slowly while T.J. watched the movement. Even in jeans, boots, and a thick winter coat, she knew how to shift her hips to draw his attention. His smile grew wider as she closed the distance between them, propped a hand on either side of him, then leaned in close, a breath away.
She waited until his brows arched in surprise and his smile faltered, like in the old days, when he stuttered, unnerved by her in a miniskirt or a racy suggestion. Oh, she'd show him who was in control and maybe he'd stop trying to prove otherwise.
She brought her lips to his and whispered against his mouth. "The tables are turned, Mr. Shepherd. What are you going to do about it?"
"Turn them back in my favor." He cupped her head, then opened his mouth against hers.
It was no ordinary kiss, nothing like what she might have expected out of the T.J. she used to know.. No, this was a prelude to sex, a long, hot sensual kiss that slid across her lips with delicious precision, igniting a fire within her. The heat shimmied through her veins, burned deep inside her, and made her think of tangled sheets and hot nights.
His tongue teased hers and his fingers awakened the nerves in the back of her neck. Her thoughts swirled, her heart raced,. The world closed in to just them, this moment, this kiss.
Too soon, T.J. drew back. Gabby took a second to catch her breath, to gather her thoughts and clear her head. "What…what was that?"
"If you don't know, maybe we should go back to Sex Ed class." T.J. grinned, then swung his leg over the bench and got to his feet.
From Love in the Shadows by Barbara Wallace (Part 4 of The Billionaire's Matchmaker)
***EXCERPT***
"Are you seriously just going to let her march out of here with your property?" Cyrus asked, his eyebrows raised.
Nick stared at the car driving away from the house. She had marched, hadn't she? He didn't think the term applied to anyone outside a drum and bugle corps but it fit Jennifer Travolini's exit perfectly. He could still hear the heels of her fl at shoes slapping against the marble.
"Yes, I am," he answered, letting the drape fall back into place. Not only would he let her march out, but he planned to let her keep the damn dog if she wanted as well. Wasn't as though he'd win a prize for pet owning anyway. Truth was, he never should have indulged Megan in the fi rst place. But then, he'd always indulged Megan, so when his fi ancée fell in love with the purebred puppy, he'd said yes. He should have realized she'd lose interest in the animal after a few months. And, when she walked out, leaving the terrier behind, he couldn't bring himself to punish the animal for her thoughtlessness, or his, by shuttling him off to a shelter. After all, in a way, the two of them were kindred spirits. Both were dumped after she stopped fi nding them attractive. In retrospect, however, keeping the dog was the bigger punishment. Ms. Travolini was right; the dog deserved more attention than he could give.
"Do you know why the dog wasn't neutered?" he asked, turning his attention to the reason behind Jennifer's visit.
The guilty expression on his butler's face answered his question. "Miss Megan canceled the surgery. Said she might want to breed him in the future. I assumed you knew."
"I didn't." But then, Megan failed to share many things during their engagement. Starting with the fact that she didn't love him.
"But you told Ms. Travolini otherwise."
"Your eavesdropping skills are rusty, Cyrus. I neither confirmed nor denied knowledge. Besides, aren't I allowed to save some face?" He managed a wan smile. "No pun intended."
"Of course the pun was intended. You have a warped sense of humor." The butler's lips curled into a cross between a grimace and a sneer. During the ten years he'd worked for him, Nick had come to recognize the expression as the closest thing Cyrus had to a smile. He was also the closest thing Nick now had for a friend. Sometimes he wondered if Cyrus would be as loyal without the sizeable paycheck he received every week. Nick wasn't about to test the theory. Even if he was only staying for the money, at least he stayed. Megan couldn't manage that much.
Right now, the older man was looking at him with concern. "You look tired. Maybe you should lie down for a bit. The doctors in Europe did say you needed to take it easy."
"The doctors in Europe don't have a multi-billion dollar empire to run. And I was gone too long as it is. I'll lie down before dinner."
"I'll have the cook make you some tea then."
Nick hated tea, but he nodded anyway. Truth was, the fatigue was setting in, along with the painful stiffness in his shoulder. Three years ago, he could work sixteen hours straight and not bat an eye. Now everything took longer and zapped his energy. He hated it. It was one of the reasons he'd gone to Europe. Hoping the doctors and their miracle cures might help built his stamina.
God, how he hated the way the whole damn world walked on eggshells around him. Constantly worrying whether he was tired, whether he was in pain. Whether they would say or do the wrong thing. Everyone except Cyrus.
And Jennifer Travolini. Turns out his dognapper was quite the study in contradictions. At first blush, she looked as steely as a wood sprite in a potato sack. In fact, that shapeless jumper she wore wasn't much more than a potato sack. She either had lousy fashion taste or she was purposely trying to hide her attractiveness. Didn't work. Potato sacks didn't hide shapely legs or slim wrists. Same way her avoiding makeup didn't hide her delicate cheekbones or the spark that found its way into her brown eyes when she started lecturing. The man in him couldn't help wondering if they lit up at other moments—even if such thoughts were a waste of time. Whatever bravado Jennifer Travolini displayed, she did so while he was in the shadows. Like everyone else in the world, her impression would change once she saw the real him.
Still, the challenge was nice while it lasted. And the dog was in a better home. Something he should have arranged a long time ago.
He made a note to have a check delivered to Ms. Travolini in the morning.
***GIVEAWAY***
To celebrate Indulgence's new look, Entangled Publishing is giving away a Kindle preloaded with 10 Indulgence titles. Enter for your chance to win below. (US Only)
a Rafflecopter giveaway
Good luck and be sure to check out all of the other awesome Entangled Indulgence titles!
Related Posts