We're so excited to have fabulous author Samantha Ann King stop by today to chat with us about Tempting Meredith, the latest novel in the Lovers and Friends series. First, here's the 411 on Tempting Meredith: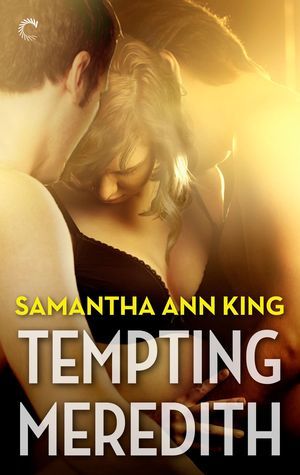 Tempting Meredith
by
Samantha Ann King
Series:
Lovers and Friends #3
Published by
Carina Press
on June 9, 2014
Genres:
Ménage
Pages:
245
Goodreads
Buy the Book
Astrophysicist Meredith Burke's professional life is perfect. Her personal life is another story. Years ago, a menage with the man she loved and his roommate left her with a broken heart and a secret. She hasn't trusted anyone since, but when she meets rugged hunting guide Charlie Connor she figures she doesn't need to. He's got "one-night stand" written all over him.

After one night with Meredith, Charlie needs more. She's intoxicating, and shockingly willing to give him total control of her body. When she agrees to spend an entire week with him at the lodge where he works, it's more than he'd hoped for. But Blaine Bridges, Charlie's best friend and boss, has his own secrets.

Blaine hasn't seen Meredith since that disastrous encounter eight years ago, but he still has feelings for her. Now she's dating his best friend, the man he wants for himself. When Meredith invites him to join in their naughty play, his pleasure is all-consuming. But will the secrets they all hold close destroy a beautiful beginning or bring these three lovers closer than they ever imagined?

Kassiah: Back when all I read was fic, I shied away from poly because I kind of felt like it was cheating, even though I'm totally wrong (except for MsKathy's The Trip Home, of course, because pool-side 69 FTMFW). How can someone want and love two people equally? Because of this, I haven't read very many books that feature a ménage relationship. I'm always intrigued by them, though, and not just for obvious reasons.
The few stories with that I have read with ménages have been mostly one-time occurrences, the path that led two of the characters to their forever. I haven't read a book that really dealt with the emotional journey to discovering that being in a poly relationship is where they belonged. Tempting Meredith shed a light on this path and the characters' feelings that I hadn't considered before.
The story starts off with Meredith in college, crazy about her boyfriend, Dylan. Dylan and his roommate, Blaine, are playing video games when Dylan makes a suggestion:
"You are so fuckin' hot."

She didn't say anything, just tried to catch her breath as his hand swept across her chest above the tight pink cami. Through half-closed eyes, Blaine watched them. His lips were slightly parted, his chest rising and falling as quickly as hers.

"Know who else thinks you're hot?" Dylan asked.

She couldn't imagine. Still found it hard to believe that Dylan was into her. "Huh-uh," she said breathlessly.

"Blaine." His whisper tickled her ear.

The admission stunned her. She didn't know what to say.

Dylan chuckled. "Know what he wants for graduation?"
She's apprehensive, but Dylan is pretty reassuring.
"My best bud and my best girl? Fuckin' hot. And I'll be with you. It's not like you'll be doing it behind my back. It'll be the three of us together. Both of us inside you."
You know what happens next. What you might not expect is for Meredith to feel ashamed rather than empowered. Fast-forward eight years and Meredith has been through a lot. She's not interested in a romantic relationship but she can't deny the chemistry when she meets Charlie. She lets him know that she's only interested in sex, but he wants more. After a few dates and some hot no-strings hookups, Charlie invites Meredith to spend a few days with him at the ranch. She reluctantly agrees and can't believe it when she comes face to face with Blaine, who owns the ranch Charlie works at.
I don't really know what else I can say without giving everything away. What I can say is that I was totally surprised at the emotional depth of this story. When Meredith was in college, she didn't set out to be part of a polyamorous relationship, and eight years later, she's still dealing with the shame she associated with that. Charlie has never wanted to be with another guy before and learning about his own sexuality is a journey in and of itself.
It was a different way of perceiving himself, his sexuality. Because if he was attracted to Blaine, he wasn't straight. And if he brought Blaine into his bed, he wasn't monogamous. That was probably the scariest aspect of the ménage. While he hadn't spent a lot of time contemplating marriage and a family, when he did, he imagined one woman and a couple of kids. Nowhere in his imaginings had a man appeared. Until now.
The three of them discover things they never knew about themselves as well as each other, and I loved that about this story. I loved their strengths as well as their vulnerabilities. I thought the reactions they had were realistic, and the sex was smoking hot.
There were some things I didn't like. I wasn't crazy about Meredith's personality. You can't like everyone, though. I also felt like some things were really drawn out, like the play-by-play of a pool game, and there were moments that felt a little too PSA to me. The end was a little too nicely wrapped up, but you're not going to hear me complain about HEAs. Ever. 🙂
Tempting Meredith was so much more than I expected it to be. A hot ménage, yes (actually two). But the authenticity of the characters and the realistic feelings they had toward each other and themselves sets Tempting Meredith apart. You'll want to check this one out if you're looking for depth and emotion in addition to the sizzle.
Report Card
Cover
Characters
Plot
Writing
Steam
Overall:
4
***INTERVIEW***
Thanks so much for stopping by today, Samantha! It's time to tell our readers about your book! Give us your elevator pitch about Tempting Meredith.
Luckily, I've never had to catch a publisher's attention with an elevator pitch because I'm lousy at them. On the other hand, if my career depended on it, maybe I'd improve. I learned after I contracted for my first book that the marketing department wanted an elevator pitch because they don't read the books they promote. (And I'd thought I'd dodged that bullet. Wrong!) Here's what I sent them.

Astrophysicist Meredith Burke is on the verge of becoming the youngest tenured professor at TIMT. Her professional life is perfect. But when she was 18, a ménage with the man she loved and his college roommate left her with a broken heart and a secret. She hasn't trusted a man since.

Hunting guide Charlie Connor wants more than a one-night stand from Meredith. To get it, he must overcome her need for control. But Charlie's best friend and boss, Blaine Bridges, has his own secrets.

Blaine still has feelings for his college roommate's ex, even though he hasn't seen her since that disastrous ménage nine years ago. Now she's dating his best friend, the man he wants for himself. Will their secrets destroy their friendship or bring them closer than they ever imagined?

If it looks familiar, it's because the marketing department used a lot of it in the back cover blurb.
See? You're not so bad at the elevator pitch! What sparked the idea for Tempting Meredith?
Readers first met Meredith in Sharing Hailey when she told Hailey that falling in love makes you stupid and Hailey was twice as stupid because she'd fallen in love with two men. Surprisingly, readers liked Meredith enough to ask for her story. It was tough. I had to get Meredith to open up about why she was so down on love. Once she told me, I was heartbroken, and I knew readers were right. I had to give Meredith her happily-ever-after. Of course, Karma's a bitch, so Meredith had to fall for two men.
Wow! We admit that Tempting Meredith surprised us. It deals with so many deep issues, and we definitely didn't expect that! How did you make sure everything stayed so authentic to the characters and what they were going through?
Despite all the research I did while writing Tempting Meredith, the first draft wasn't authentic to the characters. For that matter, neither was the second. I tend to take the path of least resistance on those first drafts. But by third and fourth drafts, I'm listening to the inner voice that says, "She wouldn't do that." If I succeed in drowning out that inner voice, my editor uses her outer voice. It's pretty loud, so she's impossible to ignore!
Awesome that you were so willing to listen to your characters. How would you introduce Meredith to readers?
Intellectually, Meredith's a prodigy—left high school without her diploma at the age of 16, got her GED and went to college on a full scholarship. She's very good at knowing where her weaknesses lie, tackling them head on, and then taking that newfound knowledge a step further. She's managed to combine those strengths and weaknesses to become the youngest tenured professor at TIMT and a powerhouse volunteer in her community. So her professional life is perfect. But when she was eighteen, a college boyfriend screwed her, then left her alone to deal with the repercussions. She hasn't been able to trust men since, at least not with her heart. Emotionally, she has a lot to overcome, a lot to learn.
*nods* How would you describe yourself in three words?
Introverted, curious, anxious.
What's the best piece of advice you ever received from another author?
Just get the words on the paper. You can always fix them later. Shannon Hale puts it more eloquently. "I'm writing a first draft and reminding myself that I'm simply shoveling sand into a box so that later I can build castles."
Great advice! Which character makes you swoon the most (yours or someone else's)?
Whichever character I'm reading or writing at the moment. Is that a cop out? Honestly, that's like picking your favorite child. It depends on my mood and my child's mood at that particular moment, and what's going on in our lives. Hah, you probably thought I'd say I don't have a favorite child. I do. But that coveted position changes frequently.
🙂 Do you have any current or future projects you can tell us about?
So many readers wanted more of Sharing Hailey that I'm working on a sequel with Hailey, Mark and Tony. I'd originally planned a novella, but as it turns out, the three had more going on in their lives than I was aware of. I love when that happens!
Awesome. One last question, Samantha. Is there ever anything that you always wish someone would ask you, but they never do?
Hmm, I can't think of anything. As I said earlier, I'm an introvert, so unless I've had a glass of wine or two or a lemon drop martini, I prefer to ask the questions, not answer them.
Thanks again for coming by. We're excited to introduce Meredith, Charlie, and Blaine to our readers!
Thanks so much for having me! You asked some great questions, especially that one about describing myself in three words. Really thought-provoking for me!
Find out more about Tempting Meredith in this exclusive interview with Samantha Ann King!
***About Samantha Ann King***
Samantha Ann King was born and raised in Houston, Texas. After receiving her BBA in Finance from Texas A&M University and marrying her high school crush (notice she didn't say sweetheart), Samantha relinquished her "native Texan" status and moved to Baton Rouge. She has called Albuquerque, New Mexico home since 1985. The mother of three has volunteered in the community as an advocate for children's issues ranging from education to healthcare. In 2010, as her nest started to empty, she began writing erotic romance. Thanks to her win in Passionate Ink's Stroke of Midnight Contest, Samantha signed her first publishing contract in 2011. Her first book was nominated for RT's 2012 Reviewers' Choice Award.
Find Samantha Here: Website | Facebook | Twitter | Goodreads
***GIVEAWAY***
$25 gift card to Amazon/Barnes and Noble (winner's choice, open internationally)
a Rafflecopter giveaway
Good luck!
Related Posts