Shock & Awe
by
Abigail Roux
Also by this author:
Touch & Geaux
,
Ball & Chain
Series:
Sidewinder #1
Published by
Riptide Publishing
on September 30, 2013
Genres:
M/M Erotica
Pages:
92
Goodreads
Buy the Book
After barely surviving a shootout in New Orleans, Sidewinder medic Kelly Abbott has to suffer through a month of recovery before he can return home to Colorado. He's not surprised when fellow Sidewinder Nick O'Flaherty stays with him in New Orleans. Nor is he surprised when Nick travels home with him to help him get back on his feet—after all, years on the same Marine Force Recon team bonded the men in ways that only bleeding for a brother can. He's very surprised, though, when Nick humors his moment of curiosity and kisses him.

Nick knows all of Kelly's quirks and caprices, so the kiss was a low-risk move on his part . . . or so he thought. But what should've been a simple moment unleashes a flood of confusing emotions and urges that neither man is prepared to address.

Now, Kelly and Nick must figure out what they mean to each other—friends and brothers in arms, or something even deeper?—before the past can come back to ruin their tenuous future.

Les Joseph: Anyone who has read Abigail Roux's Cut and Run series—and if you haven't WHAT IS WRONG WITH YOU?—has been anxiously awaiting Shock and Awe, a spin-off story starring the much MUCH loved Nick and Kelly. And really, who ever would have thought Nick could be so fantastic? I know I didn't, but fantastic he is and Nick and Kelly together is even better. For a short, novella-length story, Abi has packed Shock and Awe full of all the best things. There's humor, there's snarky dialogue, there's some drama, and of course … HOT SEX! Like off-the-charts hot. Not to spoil anything, but the peek of Ty and Zane was most welcome, too.
Shock and Awe starts right where Touch and Geaux, Book 7 of Cut and Run, ends. Kelly's been injured and Nick, being the guy and fellow Sidewinder he is, offers to stay with Kelly while he recuperates. Their easy friendship follows them home, and it isn't long before the spark of attraction flares to life. Friends to lovers doesn't always work, it isn't always believable, but the relationship between Nick and Kels is easy and natural, seamless. Kelly has never been with a man, so he's in uncharted territory, but even the gay-for-you angle totally works.
Abi has a way of combining sweet and hot, vulnerable and in-your-face, dirty with soft, that is unlike any other author out there. Her men are volatile and strong, but there is always that one layer of tenderness that makes us readers fall so helplessly in love with her characters.
"I'm not going to fuck you, Kels."

"Why not?"

"Because you're hurt and I get rough."

Kelly swallowed hard, his breath quickening. "How rough?"

Nick cocked his head and smiled slowly.

"That's kind of hot."
So hot, but there's always that added depth that sets even Abi's steamiest sex scenes apart from all others.
The book is short, shorter than any true fan wants, but the pace is perfect. Nick and Kelly work out their confusion and worry about taking their friendship to the next level with quickness and ease, but it's totally right for them. They're already the closest of friends—teammates, brothers-in-arms—and they'd die for one another without a moment's hesitation, but they decide to risk it all and see what happens.
I'm not going to lie, the end of Shock and Awe gutted me, but I won't spoil it and tell you why. Just … trust me and make sure you have tissue close by. Vodka wouldn't be bad either. As an added bonus, Abi has gifted (yes, gifted) us with a glimpse of the next Sidewinder story, Bait and Switch. I can't even with how excited I am for that book, and of course for Ball and Chain, Cut and Run Book 8.
Although I wanted more, Shock and Awe was truly everything I had been waiting for. March CAN'T come soon enough, but this sure was a fabulous treat to help tide us minions over!
Report Card
Cover
Characters
Plot
Writing
Steam
Overall:
5
**About Abigail Roux**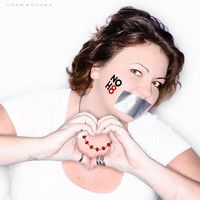 Abigail Roux was born and raised in North Carolina. A past volleyball star who specializes in sarcasm and painful historical accuracy, she currently spends her time coaching high school volleyball and investigating the mysteries of single motherhood. Any spare time is spent living and dying with every Atlanta Braves and Carolina Panthers game of the year. Abigail has a daughter, Little Roux, who is the light of her life, a boxer, four rescued cats who play an ongoing live-action variation of 'Call of Duty' throughout the house, a certifiable extended family down the road, and a cast of thousands in her head.
Find Abi Here: Website | Facebook | Twitter | Goodreads
***GIVEAWAY***
In celebration of Nick and Kelly's coming out, so to speak, author Abigail Roux is giving away three of their Heart and Clover T-shirts for three lucky commenters. And five sets of trading cards with original artwork and character work-ups, something she intends to add new cards to every year, which makes this first year's cards pretty important if you're an obsessive collector like we are 🙂
Good luck and be sure to check out the other stops on the tour!
Related Posts