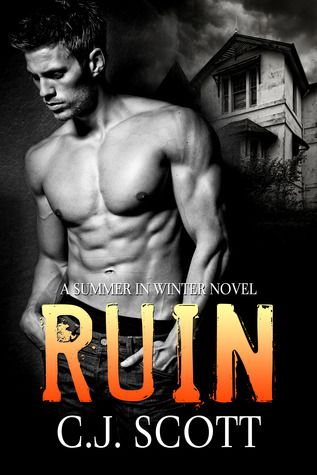 Ruin
by
CJ Scott
Series:
Summer in Winter #1
Published by
Self-Published
on August 21, 2013
Genres:
Contemporary Romance
Pages:
124
Goodreads
Buy the Book
Kate Bell isn't perfect. Not even close. The things she got up to in college would cause her parents to fall off their pedestals in shock. Home for the summer vacation, Kate settles in for a long, boring break in the tiny backwater of Winter with folks who still treat her like she's twelve.

Then Ben Parker arrives and suddenly Winter gets interesting. He's hot, mysterious and good with his hands. Kate falls for him instantly, but her cop father warns her to stay away. But how can she stay away from someone as compelling as Ben? Someone who thinks she's perfect just the way she is?

When Ben's secrets catch up to him, not only is Kate's heart in danger of being broken, but Ben's entire future could be ruined.

Kassiah: I have to admit that the cover of this book drew me in. Who doesn't want to read a book featuring a hot guy with intricately-defined abs? I know I would.
Kate is spending the summer back home in Winter, Montana, when drifter Ben Parker (isn't that another character's name already?) arrives on her friend's doorstep, looking for work. He's mysterious and is only planning to spend one night in town, and Kate takes an instant liking to him. In fact, at only 28% in, with very little interaction between the two, Kate decides that she's "falling for him and falling hard." Despite him being very clear that he isn't interested in pursuing any kind of relationship with him, she is pretty determined to sleep with him and doesn't understand why he's not interested.
I didn't connect to these characters at all. There's some mysterious vibe going on with Ben and though I'm pretty sure I could guess what it is, I didn't care about them enough to keep reading. The insta-love and omg I just want one night with him or my life won't be complete annoyed me, and I flounced at 44%.
I'm afraid that Ruin by C.J. Scott is yet another New Adult book lacking in original plot development and in need of an editor. Pass up this pretty cover and spend your time on something else.
Related Posts