Rome
by
Jay Crownover
Also by this author:
Jet
,
Leveled
,
Charged
Series:
Marked Men #3
Also in this series:
Jet
Published by
William Morrow
on January 7, 2014
Genres:
Contemporary Romance
,
New Adult
Pages:
384
Goodreads
Buy the Book
Sometimes the wrong choice can be just right . . .

Fun and fearless, Cora Lewis knows how to keep her tattooed "bad boy" friends at the Marked in line. But beneath all that flash and sass is a broken heart. Cora won't let herself get burned again. She's waiting to fall in love with the perfect man—a baggage-free, drama-free guy ready for commitment. Then she meets Rome Archer.

Rome Archer is as far from perfect as a man can be. He's stubborn, rigid, and bossy. And he's returned from his final tour of duty more than a little broken. Rome's used to filling many roles: big brother, doting son, supersoldier—but none of those fit anymore. Now he's just a man trying to figure out what to do with the rest of his life while keeping the dark demons of war and loss at bay. He would have been glad to suffer through it alone, until Cora comes sweeping into his life and becomes a blinding flash of color in a sea of gray.Perfect may not be in the cards, but perfectly imperfect could just last forever . . .

Kassiah: I have to admit that I haven't read the first two books in this series, but you better believe that I will be reading them asap. For those of you who have read the other books, the gang's all here (I think). Rome Archer is Rule's brother, and I think Rule and Shaw lovers are going to really love this. Rome's back home after spending years away deployed in the army and finds himself having difficulty reassembling into civilian life.
I hated feeling like a visitor in my own life, and no matter what I told myself when I woke up i the mroning each day, I couldn't shake feeling like everything I had come back to after my contract with the army was up was a life that belonged to someone else. My family didn't feel right. The new dynamic in my relationship with Rule didn't feel right. Trying to get used to Shaw being taken care of by my wayward and reckless little brother didn't feel righ. Crashing with Nash wile I tried to get my shit straight didn't feel right. Not having a job lined up or any clear direction of how to support myself doing something other than fighting a war quite possibly felt the most wrong out of all.
He tries to resist his attraction to Cora, the spunky spitfire who works at Rule's tattoo shop, before failing desperately.
"I don't know, Half-Pint, something tells me reining you in is probably a pretty good time.
But Cora's not interested in just any guy, no matter how hot he is. She was burned by her ex and is determined not to settle for anything other than the real deal.
I didn't do well as a leaf no longer attached to tree. I needed roots, a foundation to grab on to, and when my perfect guy came along he was going to be so solidly planted it would take a hurricane to move him.
Along the way, Cora realizes that the perfect guy for her doesn't have to be perfect on paper and Rome gets his shit together, thanks to Cora, Rule setting him straight, and in part to Brite, a soldier who helps him and gives him a job. Brite was definitely one of my favorite parts of the book, and I highlighted quite a few passages of his sage advice 🙂 I loved the characterization of pretty much everyone in this. Even though I didn't read the other books in the series, I felt like I knew them. And not just the main characters–I could totally hang out with the entire cast.
I really loved Rome. He was a soldier dealing with some very real issues, and I really liked the way his character came around. I loved that he referred to Cora as "my girl," even before she technically was his. I liked that he looked beyond the surface and gave people a chance. Plus, he was hot and soooo sweet.
I couldn't imagine ever coming home to anyone that wasn't her.
There were some things I didn't like (like "wet, greedy channel") and the fact that Cora was so dead set on finding Mr. Perfect. If she were younger, I might have believed that she would actually think that, but at her age? Not so much. There are a couple of other things, but they're spoilery, so I won't mention them except to say that I didn't think the situation with her ex was handled realistically. The thing that drove me the absolute craziest was the character names. I get Rome and Rule (and Remy), but Rowdy? What do I know? I'd say it's all good if that's my biggest complaint.
With all that being said, I really liked this story a lot. With a legit hero who's hot and sensitive and a heroine that I wanted to see get her HEA, you can't go wrong with Rome by Jay Crownover. I can't wait to read the other books in the series!
Report Card
Cover
Characters
Plot
Writing
Steam
Overall:
4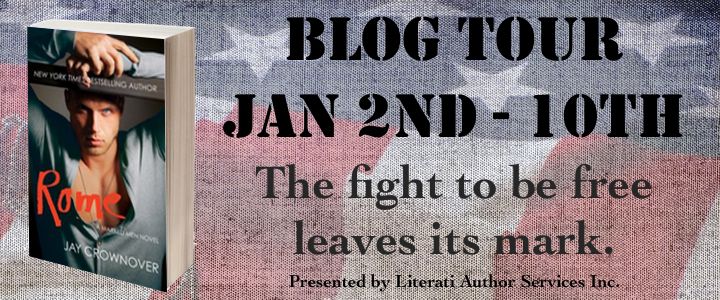 **About Jay Crownover**
I'm supposed to share interesting details about myself so that my readers get to know me so here we go in no particular order: I'm an natural redhead even though I haven't seen my real hair color in years, I'm a big fan of tattoos and have a half sleeve on either arm and various other pieces all over the place, I've been in the bar industry since I was in college and it has always offered interesting insight into how men and women interact with each other, I have 3 dogs that are all crazy, I live in Colorado and love the snow, I love music and in all reality wish I could be a rock star not a writer or a bartender but I have zero talent so there is that.
I love to write, love to read and all I'm interested in is a good story with interesting characters that make the reader feel something.
Find Jay Here: Website | Facebook | Twitter | Goodreads
***GIVEAWAY***
a Rafflecopter giveaway
Good luck! And be sure to check out the other stops on the tour.
Related Posts