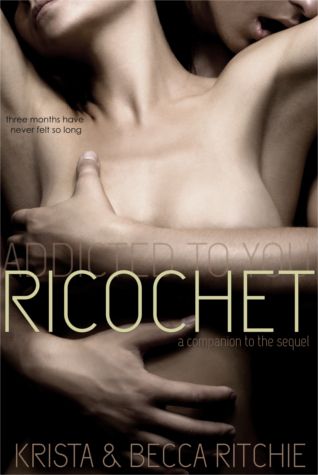 Ricochet
by
Becca Ritchie
,
Krista Ritchie
Also by this author:
Addicted to You
Published by
Self-Published
on July 30, 2013
Genres:
Contemporary Romance
,
New Adult
Pages:
290
Goodreads
Buy the Book
As a sex addict, Lily Calloway must do the impossible. Stay celibate for 90 days.

Cravings and fantasies become her new routine, but while Loren Hale recovers from his alcohol addiction, Lily wonders if he'll realize what a monster she really is. After all, her sexual compulsions begin to rule her life the longer she stays faithful to him.

Progress. That's what Lily's striving for. But by trying to become closer to her family—people who aren't aware of her addiction—she creates larger obstacles. When she spends time with her youngest sister, she learns more about her than she ever imagined and senses an unsettling connection between Daisy and Ryke Meadows.

With Lily and Lo's dysfunctional relationship teetering and unbalanced, they will need to find a way to reconnect from miles apart. But the inability to "touch" proves to be one of the hardest tests on their road to recovery. Some love brushes the surface. Some love is deeper than skin.

Lily and Lo have three months to discover just how deep their love really goes.

Kassiah: If you read my review of Addicted to You, you'll remember that while I liked a lot of things about that book (like Loren gah!), I had some problems with it, too (like Lily). There are still some things I didn't like, but I liked Ricochet a little more than Addicted to You, and I'm still flailing over Loren.
Ricochet picks up just a few days after Addicted to You ends, with Lo safely at rehab and Lily picking up the pieces with the prospect of no best-friend/boyfriend to take care of her. She moves into her sister, Rose's, apartment to get ready to go to Princeton. She's determined to spend more time with her family, especially her younger sister, Daisy.
I liked that Lily was realistic this time around, with her trying to get to the bottom of why she is actually addicted to sex and being determined to stay true to Loren.
I have many fears since Lo has left, but my greatest one is failing him. I want to wait for Lo, and if I'm not strong enough to squash these compulsions before he returns from rehab, then our relationship will really be over. No more Lily and Lo. No more us.
I loved that she recognized her role in Lo's addiction and wanted to help him. I liked the other characters in this book. Getting to know Lily's sisters was a treat, and gah! I loved Ryke. I also loved delving into Lily and Lo's pasts with the (sometimes) sweet flashbacks. There's definitely some steam in the form of Skype and phone calls.
He suddenly lets out a long groan. "God, I just want to kiss you."

I grin. "Welcome to my world. I think I've imagined making out with you about five billion times since you've been gone."

"And how many times have you imagined my cock in your mouth?"
No surprise, I loved Loren. He was sweet and steamy and vulnerable.
"I want to be there with you," he says. "I don't want Ryke to the the one to protect you. That's my job, and I plan to be a hell of a lot better at it than before…"
I still swoon when he calls her "love". Both Lily and Loren work through a lot of issues, and I really loved that their characters were so authentic, while staying true to themselves.
There were definitely some pretty funny moments, too.
Well how many fingers does Lo usually use?"
So what didn't I like? I wanted more Loren, obviously. I really loved getting to know Ryke and Daisy, but their relationship creeps me out a little. She just seems so young. I was a little confused by some of the therapy advice that Lily received, and there were some errors that hopefully will be fixed before publication. There's a cliffy at the end, but luckily we don't have to wait very long for Addicted for Now, which will be released on November 30th. We do get the first chapter here, but it's such a tease. Overall, I really enjoyed Ricochet and can't wait to read the next book.
Report Card
Cover
Characters
Plot
Writing
Steam
Overall:
3.5
**ABOUT THE AUTHORS**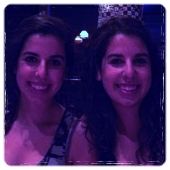 Becca Ritchie is a carnivore of pop culture, television, film and of course YA and NA books. While in college, she worked at The CW television network and put her vampiric knowledge to good use, blogging about hit series and swooning over actors' abs. When she's not blogging, she writes novels and has teamed up with her twin sister for their New Adult novel Addicted to You. Find Becca:
Website | Twitter | Facebook | Goodreads
Krista Ritchie is the mind behind popular trading website YA Book Exchange and created Nawanda Files, a book blog that also features books into movies news. When not pouring over entertainment news and the newest releases, she spends her time working in the science field. She's happy to join forces with her sister, harnessing their twin powers to produce the first in a New Adult series. Find Krista:
Website | Twitter | Facebook | Goodreads
***GIVEAWAY TIME***
$25 Amazon Gift Card and Paperback Copy of Addicted to You
a Rafflecopter giveaway
What do you think, Steamettes? Did you read Addicted to You?
Related Posts