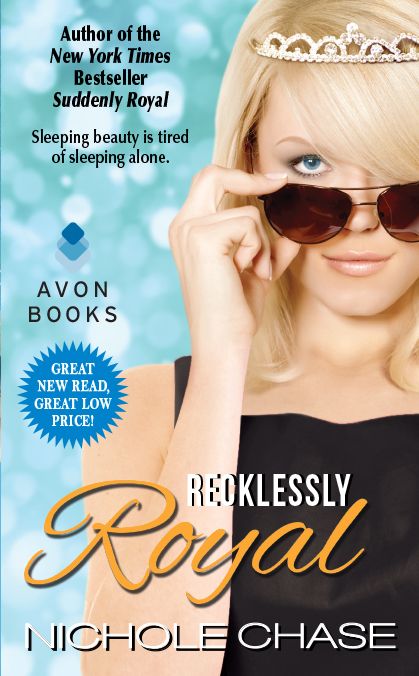 Recklessly Royal
by
Nichole Chase
Series:
Suddenly #2
Published by
Avon Books
on March 25, 2014
Genres:
Contemporary Romance
Pages:
384
Goodreads
Buy the Book
Catherine has spent her life being the perfect princess. She's kept her hands clean, her head down, and most importantly—men at arm's length. After all, most men are after only one thing, and for Cathy there's a lot more at stake than her bed; she has to worry about the fate of an entire nation. But at the rate she's going, Cathy is afraid she'll give the Virgin Queen a run for her money. She is tired of waiting for someone good enough to come along. She has a plan, and it all hinges on seducing the one man who seems utterly unimpressed by all things royal. The one man she is tempted by more than any other . . .

When David arrives at the royal wedding of his friend, the newly ordained Duchess Samantha Rousseau, he expected to feel uncomfortable and out of his element, but he wasn't prepared to be targeted by Prince Alex's gorgeous younger sister. With Cathy's giant blue eyes, killer figure, and sense of humor, it won't take long before he gives in. But when he finds out just how innocent the crown princess really is, will he play the part of knight in shining armor or the dashing rogue?

Kassiah: Recklessly Royal is a quick, cute story with likable characters and a fun storyline. Princess Catherine has always done the right thing, but all bets are off when she sets eyes on David Rhodes, who is there to attend her brother's wedding. She thinks he's a stripper and her friends hired him, since earlier she was bemoaning the fact that she can't trust anyone to want her for herself rather than her title when her friends tell her to find someone who isn't impressed by who she is and just go for it. Their first meeting is definitely unforgettable.
"What are you supposed to be? A lost lumberjack?" I pulled the heavy bag out of his hands and set it on the ground. "Well, c'mon! Someone start some music." I gyrated my hips a little and wiggled my eyebrows. "Take it off, bab-ay!"
David is a southern boy and doesn't love how things work in Cathy's country, so he's definitely not after her prestige. He's just after her.
David watched me with a small smile, but there was something in his eyes I hadn't noticed in another man's gaze before. Hunger. Just good, old-fashioned lust, and it sent a shiver down my spine.His eyes traveled over the tight-fitting satin of my dress and back to the barely noticeable cleavage.

I might never have a relationship like Sam and Alex. Hell, I might never find that type of love. But I could find someone to make my blood run hot for one night.

The last boy I had dated had treated me like a trophy, showing me off at parties. Even his kissing had been more like battle than something passionate; as if he was trying to lay claim to me, instead of loving everything that I am.

Most girls wanted a man who made them feel like a princess, but I wanted one who made me feel like a woman.
I liked these characters, especially Cathy, who stood up for what she wanted and didn't look at things with rose-colored glasses. David was sweet and funny, but I don't feel like I got to know him very well. There just wasn't enough of him. He was swoony, though.
"I couldn't stop wondering what it would be like to kiss you." This time when he looked at me, there was heat in his gaze.

"Maybe you should find out."
This was a cute read, but I would have liked to have a little more from these characters. This was a practically drama-free read, which seemed a little unrealistic to me. If you're looking for a fluffy dream-come-true kinda story, Recklessly Royal is definitely for you. I will absolutely be checking out the first book in the series 🙂
Report Card
Cover
Characters
Plot
Writing
Steam
Overall:
3.5
***About the Author***
Nichole Chase is the New York Times and USA Today bestselling author of Suddenly Royal, Flukes, The Dark Betrayal Trilogy, and several short stories. She is also the instructor of Say What? a dialogue class at the Romance Academy.
Nichole lives in Georgia with her husband, energetic daughter, superhero dog, Sulcata tortoise, and two cats. When not writing, you may find her reading, painting, crafting, or chasing her daughter around the house while making monster noises.
Find Nichole Here: Website | Facebook | Twitter | Goodreads
***GIVEAWAY***
Print Copy of Recklessly Royal and $25 gift card
a Rafflecopter giveaway
Good luck and don't miss out on the other stops on the tour!
Related Posts