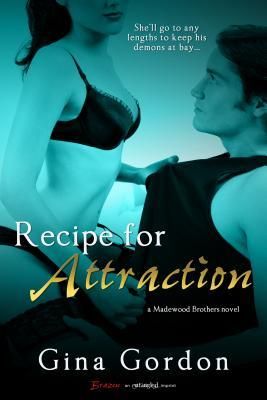 Recipe for Attraction
by
Gina Gordon
Also by this author:
Recipe for Satisfaction
,
Rush
,
Recipe for Temptation
Series:
Madewood Brothers #2
Also in this series:
Recipe for Satisfaction
,
Recipe for Temptation
Published by
Entangled: Brazen
on November 25, 2013
Genres:
Contemporary Romance
,
Erotica
Pages:
250
Goodreads
Buy the Book
Bad boy Neil Harrison may have sexy body and an even sexier smile, but there's no way in hell architect Carson Kelly is falling for the elusive bachelor. For starters, he's her boss, and getting intimately involved with the infuriating alpha male could be a career-killer. And secondly, he's battling personal demons in one of the most dangerous ways possible: illegal street racing. After a friend's tragic death years ago, Carson swore she'd never get involved in that life again.

Neil knows Carson's keeping secrets and he's determined to uncover all of them…even if he has to seduce them out of her. But as their antagonistic work relationship ignites a passionate affair, Carson must decide if protecting Neil from his need for speed is the perfect outlet for her own restless desire, or if they're on a one-way path to destruction.

Kassiah: This followup to Recipe for Satisfaction, Gina Gordon's first book in this series, brings us an amped-up level of hotness and characters for us to flail over, and definitely does not disappoint.
I loved Jack and Sterling but might love Neil and Carson even more. It's a toss-up.
Chef and entrepreneur Neil Harrison is also a dare-devil illegal street-racer, something he would prefer that no one ever find out about, especially his architect, Carson Kelly.
He'd wanted her from the very first day she rode up to the Madewood farm on her bike. But he'd pushed his desire aside not only because she was his architect, but because he didn't have time to deal with this particularly infuriating woman. From their first meeting, Carson Kelly was a ball-breaking hard-ass.
When she confronts him at a race, he realizes just what he needs to distract him from dangerous the thrill of racing.
"There's only one thing that will keep my mind off the track…and I don't think you're up for that challenge."

"Are you daring me to have sex with you?" The smile that spread across her face told himm she wasn't displeased with him. "You're bad."

"Not bad," he corrected. "Determined. I'm going to race or you're going to distract me. It's a simple as that."
And distract him she does.
I really liked the characters in this book. Both of them have pasts to work through and both of them are realistic. Carson is sexy and snarky and stands up for what she believes in. She doesn't let Neil push her too far, and she knows her limitations. Neil is tortured by his past demons and wants to live up to the memory of his adoptive mother. I loved him, though, especially when he said stuff like this:
"I want what I want. And I want you. Right now, on this desk."
Their chemistry was off the charts.
"And what is it exactly that you like?" she challenged, stroking him through his slacks.

He leaned in and whispered against her ear. "That sexy mouth of yours wrapped around my cock."

For a second time, her insides fluttered. He definitely knew how to get her heart rate going double time. "But you don't even know what that feels like."

His response was a kiss, his mouth descending upon hers hard and fast. It caused her hard hat to fall off her head.

He pulled away and stopped the kiss by biting her bottom lip between his straight white teeth. "I'm going to find out what it feels like right now."
They're so hot together. And there's a scene in here that makes me want to buy every book ever written by Gordon and read them all rtfn.
You know me–there are a few things that I didn't love. I thought that they were in a few, ahem, compromising situations that I find it hard to believe that someone as driven as Carson would allow herself to get swept away in. Admittedly, she thinks the same thing herself so I guess that's all good. I felt like the dude Carson's dad wants her to be with was a total slime-ball and didn't get what was coming to him. I also felt that the end was a little abrupt.
One thing that I did love, though, is seeing Sterling and Jack so happy and in love, so Recipe for Satisfaction lovers will really enjoy seeing them again.
I loved this book–the characters, the steam, the story. I think you'll really love it too, and I can't wait to read the rest of the books in the series.
Report Card
Cover
Characters
Plot
Writing
Steam
Overall:
4
We were lucky enough to have author Gina Gordon stop by today to chat with us.
***INTERVIEW***
Thank you so much for stopping by Steamy Guys today, Gina! You already know how much we love you, and we're so excited to let all of our readers know what you've been up to 🙂 Tell us a little about Recipe for Attraction. Was it a fun book to write?
I LOVED writing Recipe for Attraction. Neil and Carson had great banter, tons of sexual chemistry, and Carson was exactly the type of woman Neil needed to get over himself. Their love/hate relationship fuels their sexual attraction and it gets quite steamy while they figure out that they are meant for each other.
Yeah, it does! Street racing seems so fun–and so dangerous! What kind of research did you have to do to make the story seem believable?
I watched a lot of YouTube videos. Unfortunately, I wasn't able to interview anyone who was into illegal racing activities. LOL Maybe now someone will come out of the woodwork and help me out so I can start a new series 🙂
LOL *fingers crossed for you* How would you describe yourself in three words?
Shy
Loyal
Inappropriate (in the I-have-no-filter-when-speaking sense)
What's the best piece of advice you ever received from another author?
Butt in chair, hands on keyboard.
LOL Nice. Which character makes you swoon the most (yours or someone else's)?
While I love my characters, sometimes they are too close and since I'm a plotter, I already know what they're going to do. So I can definitely appreciate the characters of other authors because of the unknown factor.
If you could introduce one of your characters to another character from any other book, who would it be and why?
Oh, I would totally want Neil Harrison to meet Rain, Slade or Raul from Debra Kayn's sexy Lagsturns/Bantorus MC series. I think they would all get along quite nicely 🙂
Tell us about your future plans for the Madewood Brothers.
There are two books left in the series. Recipe for Seduction is Finn's book and Recipe for Temptation is Cole's book. They'll both be out in 2014.
We can't wait for those. We love both of those boys. Do you have any other projects you can tell us about?
I have a lot of manuscripts on the go right now but nothing I can announce officially.
Thanks again for coming by. We can't wait for our readers to get their ::grabbyhands:: on Recipe for Attraction!
Thank you for having me 🙂 And thank you readers for visiting!! Make sure you enter my blog tour grand prize — a Rafflecopter giveaway for a $50 Amazon gift card.
**About Gina Gordon**
When her dream of becoming a mafia princess didn't pan out, Gina Gordon went after her second dream…becoming a writer. And she hasn't looked back.
Gina, a self-proclaimed happily ever after junkie and cupcake connoisseuse, loves spinning contemporary tales of knee bending first kisses, unconditional love and super-hot sex. She broke out onto the romance scene with her #1 Amazon Bestselling erotic short story Her Five Favorite Words that's been called a "deliciously naughty tale" by Joyfully Reviewed.
When not chained to her computer, you can find Gina sipping Starbucks, making cupcakes or feeding her addiction to celebrity gossip. She lives in Milton, Ontario with her husband and lovable dog.
Find Gina Here: Website | Facebook | Twitter | Goodreads
***GIVEAWAY***
$50 Amazon Gift Card
a Rafflecopter giveaway
Good luck, Steamettes!
Related Posts