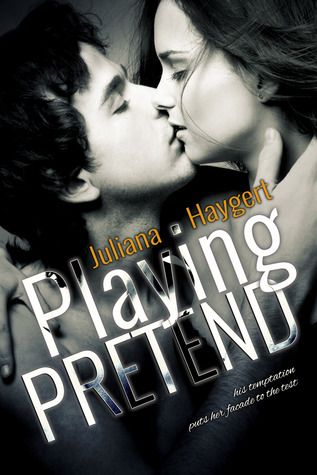 Playing Pretend
by
Juliana Haygert
Also by this author:
Breaking the Reins
,
Breaking Fences
Published by
Self-Published
on March 3, 2014
Genres:
New Adult
Pages:
228
Goodreads
Buy the Book
As the Governor's daughter, Charlotte McClain is an expert in playing pretend. High society, the men her mother shoves in her direction and a Pre-Law major are all a part of her perfect pretense. But when she pretends to be a nobody during Spring Break, she meets someone who rocks her world.

Mason Rowell knows heartbreak and Spring Break don't mesh well, so he allows the mysterious Charlotte to seduce him. What should have been a fling, results in something deeper. After Spring Break has long since passed, he moves to Washington to pursue his graduate degree, but what he never expected to find living among the rich and pompous, was the girl who gave him the strength to change and the desire to start anew.

When the guy Charlotte can't forget goes from a sensual memory to temptation in the flesh, her facade is put to the test. If she surrenders to his charms, she risks ruining her mother's perfect career and master plan. Playing pretend is what Charlotte does best, but how long can she pretend she doesn't love the man who made her proud of her true self?

Kassiah: College freshman Charlotte McClain had never felt more free–or more like herself when she met sexy bartender Mason Rowell during Spring Break and embarked upon a no-strings-attached fling that lasted six blazing hot nights.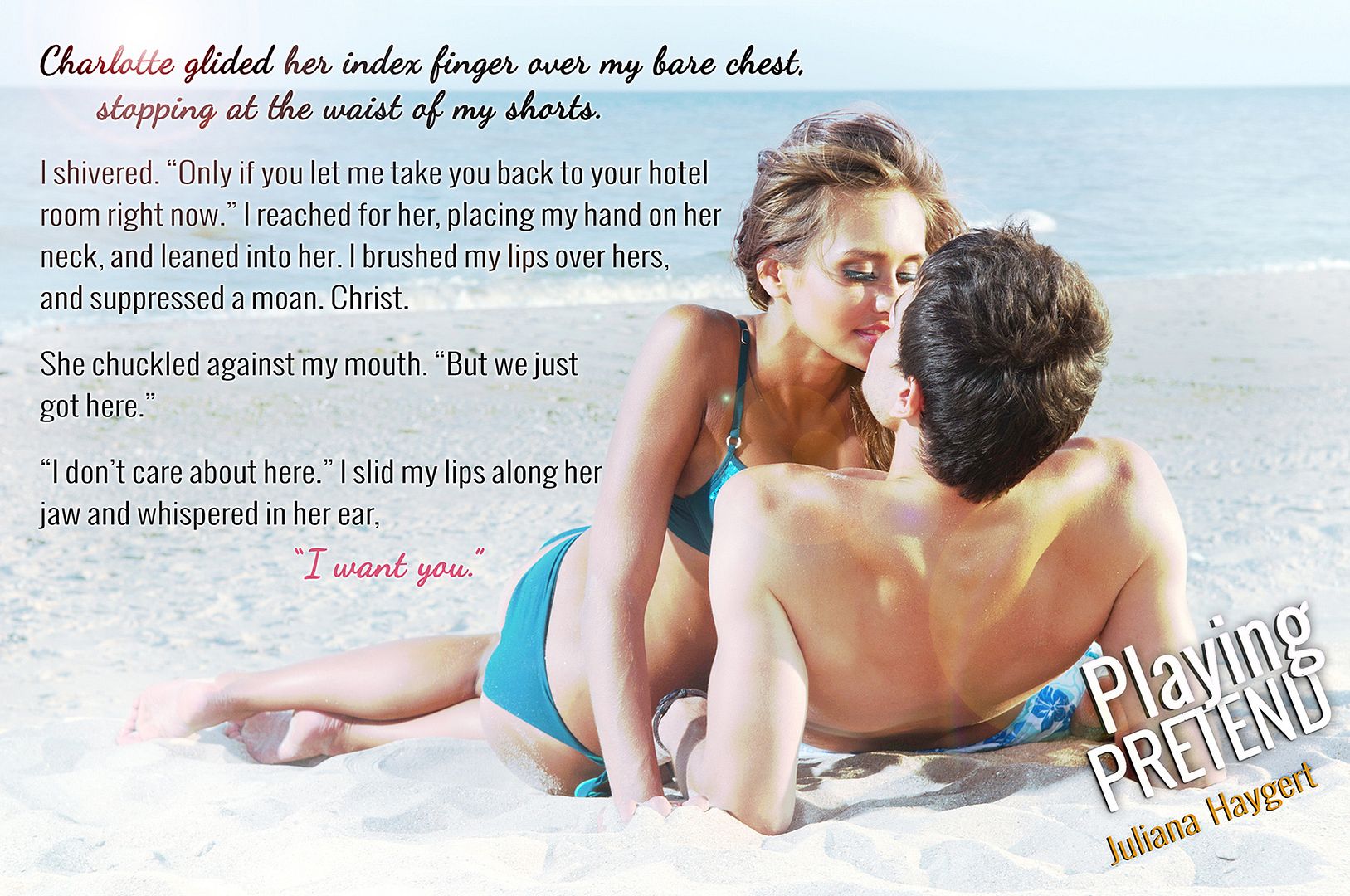 All too soon, it's time for Charlotte to go back to the "real world," attending balls, political parties, and events with her mother, who is the State Governor, and Donnie, the aspiring politician that her mother considers "a great young man". Charlotte and Mason miss each other, but since they agreed to not share any personal information when they were together, they have no way to get in touch again.
Fate intervenes and has Mason moving across the country for grad school and bumping into Charlotte when he's bartending at a high-society function.
"Will you pretend you don't know me?"

I bit the inside of my cheek and averted my eyes. "It's for the best."
Under her mother's thumb, Charlotte tries to stay away from Mason but soon finds him too tempting to resist.
After four days without seeing him, I was dying to snuggle with him. To kiss him. to feel his hands over my body. To hear his accelerated breathing in my ear. To–
The pair risks everything to be together, but how long can they sneak around before someone finds out?
Juliana Haygert came up with a great storyline in Playing Pretend, and I really like her writing style. One of my favorite things is how authentically she captures the thoughts and feelings of both Charlotte and Mason.
"I want you," I whispered in her ear. Her breath hitched, and I took pleasure in feeling her back arching with my touch, her body shivering with my breath.

Her hands grasped my arms. "Please," she gasped.

I loved when she begged. "I want the real you. The one that spent six wonderful days with me." I slid my tongue along her jaw and her nails dug into the skin of my arms. Damn, her scent was like drugs. I was addicted. "The one I know is in there. Let her out. For me."
Charlotte's friends were great, and I can totally see companion novels featuring them. Though I thought she was too flip-floppy at times, I liked Charlotte's personality and was rooting for her to get it together. Mason was swoony and sweet.
"You know what I think?" He didn't wait for my answer and said, "That we'll keep meeting like this, unintentionally. You know why? Because we should be together."
There were a few things that I didn't like. There were a lot of grammatical errors and typos, but since I read an advanced copy, I'm assuming those were all ironed out during edits. I thought that Charlotte's mother was over-the-top ridiculous View Spoiler »(she even threatened to kill her!) « Hide Spoiler, and I didn't love that Charlotte was swayed, even for a second. I also thought Donnie's character could have had a little more character and thought the ending was wrapped up a little too nicely. But really, I'm not going to complain about that!
If you're looking for a hot New Adult title that's not too angsty and features a sweet, swoony guy, then check out Playing Pretend by Juliana Haygert. It's a quick read, and I think you'll enjoy it.
Report Card
Cover
Characters
Plot
Writing
Steam
Overall:
4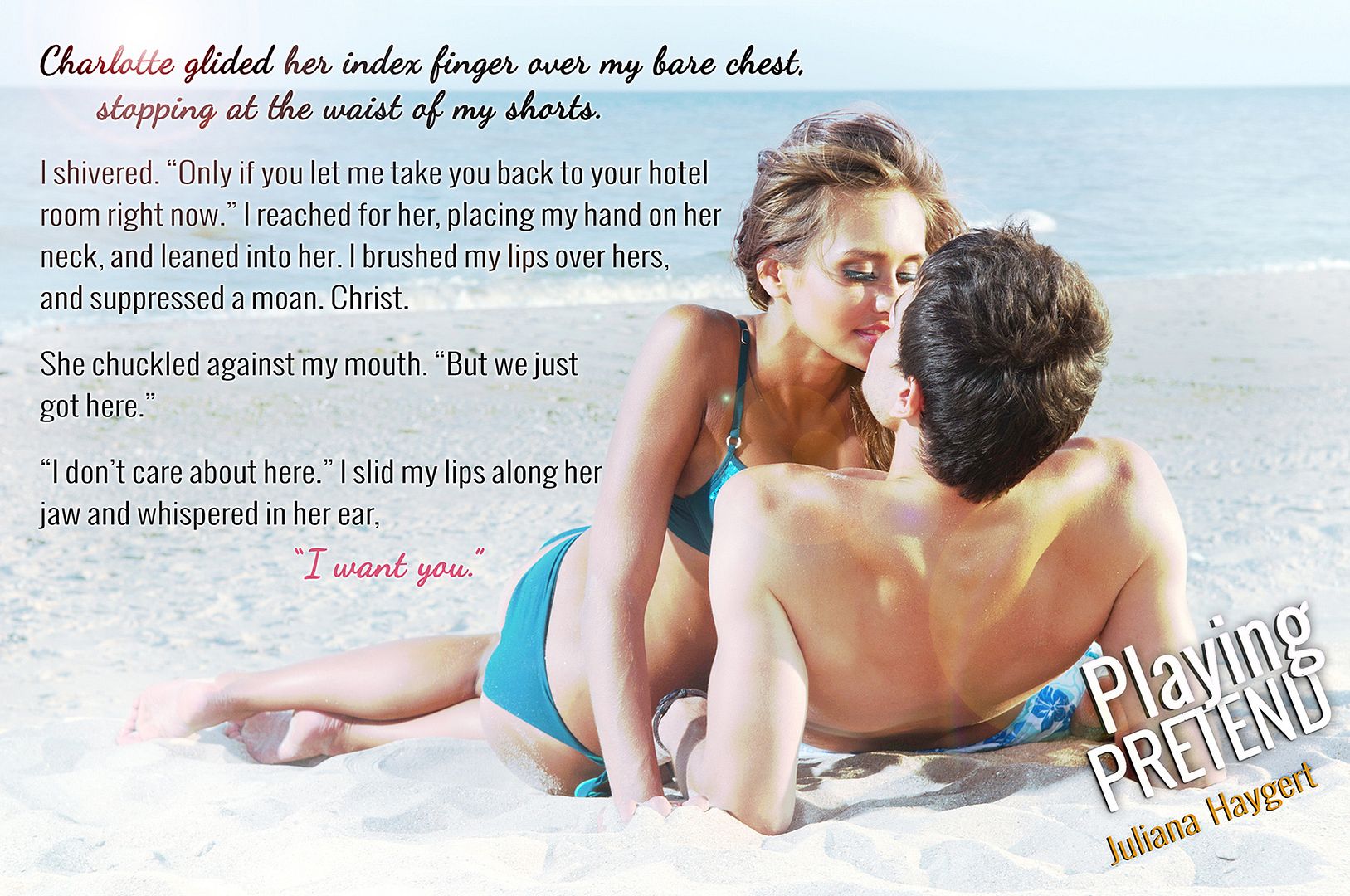 **About Juliana Haygert**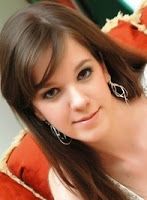 New Adult author and contributor at NA Alley blog.
While Juliana Haygert dreams of being Wonder Woman, Buffy, or a blood elf shadow priest, she settles for the less exciting—but equally gratifying—life of a wife, mother, and author. Thousands of miles away from her former home in Brazil, she now resides in Connecticut and spends her days writing about kick-ass heroines and the heroes who drive them crazy.
Find Juliana Here: Website | Facebook | Twitter | Goodreads
***GIVEAWAY***
Copies of Playing Pretend and a $25 Gift Card
a Rafflecopter giveaway
Giveaway Rules and Restrictions:
Contest is void where prohibited. Entrants must be 13 or else have parent or guardian's permission to enter. Winners will be notified via email and will have 48 hours to respond or another winner's name will be selected. Winning entries will be verified for authenticity.
Good luck and be sure to check out the rest of the stops on the tour!
Related Posts