Only for You
by
Genna Rulon
Series:
For You #1
Published by
Self-Published
on September 24, 2013
Genres:
New Adult
Pages:
390
Goodreads
Buy the Book
"In its purest form love is self-sacrificing, eternal, selfless, enduring, truthful, forgiving and indulgent. It also feels an awful lot like a kick to the stomach when you try to fight it!"

All Everleigh Carsen wanted to do was complete her final semester at Hensley University and begin the life she carefully planned.

When a wave of violent crime seizes campus, Everleigh is persuaded to attend a school sponsored self-defense seminar by her best friend, where she meets volunteer instructor, Hunter Charles. After Everleigh's biting sarcasm induces Hunter to eject her from class, a tempestuous relationship is born.

Everleigh is determined to forget the striking man, but fate—that fickle shrew—continuously intervenes. Unable to escape him, she declares Hunter an enemy combatant. The only complication…Hunter is resolutely pursuing vindication…by any means necessary. Verbal warfare ensues, and despite Everleigh's ingenious efforts, in Hunter, she has finally found her equal.

Only For You is a compelling tale of friendship, desire, and redemption—brimming with intelligent characters, witty dialogue, unexpected twists, profound sorrow, unfettered hope, and love's unassailable perseverance.

Kassiah: Hensley University senior Everleigh Carsen hasn't had a serious boyfriend since sophomore year, and she's not looking to change that anytime soon. Because of some brutal attacks on women on campus, she enrolls in a self-defense class with her roommate, Samantha. It is there that she meets the handsome and enigmatic instructor Hunter Charles. She definitely thinks he's hot but their first meeting leaves a lot to be desired.
"Miss Carsen, everyone is here of their own free will and at no expense to themselves. Most are here because they are justly afraid for their safety. You are belittling their concerns, diminishing the seriousness of the threat, and minimizing the suffering of the victims with your flippancy."
After finding that the two of them have some classes in common, Hunter and Everleigh strike up a friendship. Even though she totally wants him, she dismisses his lack of interest in anything other than a platonic relationship to the fact that she thinks he's gay. Turns out, she's wrong. Despite this revelation, Hunter tells her the classic "we're best friends and I don't want to lose you" speech, and Everleigh shifts her focus to trying to seduce Hunter.
I would subtly lay the groundwork this week, and then lure Hunter into my carnal web with sultry dancing next Saturday.
All the while, the attacks on campus escalate from assault to rape to murder, and Hunter is extra vigilant in keeping Everleigh safe. There are a lot of other things going on, like clubbing and watching Sam's budding relationship with her new boyfriend unfold. I'm not going to tell you how things end, but there is a twist in the story that I definitely didn't see coming.
There are some things that I really liked, like Hunter.
"I wish I could hold you right now. I need to feel you in my arms and know you're safe."
I also liked her friends, especially Griffin.
There are some things that I really didn't like, too. This story is very verbose. It's almost as if Rulon took out a thesaurus and replaced every single word with something bigger and more important-sounding. The descriptions go on and on.
Hunter had been as enthralled as I was, closer than ever to capitulating and indulging my inaudible pleas to satiate our desire.
Translation: "Hunter was about to kiss me."


The word choice and superior intellect don't always hold true, though, like when Everleigh talks about having a food baby or her "Ride 'em Cowgirl" plan.
There are also some things that happen that I don't think are very realistic, like Sam's parents' reactions to pretty much everything. I also felt like there were a few loose ends that weren't tied up. They could be mentioned in the forthcoming Pieces for You, which is the next in the series but is supposed to be stand-alone. Also, I didn't really love Everleigh, but that shouldn't be a surprise to any of you. She's rude and jumps to conclusions, and I would have flounced when I read a reference to Bill Clinton, but since I was reading for a tour, I didn't. I think Everleigh was let out of her responsibility in some of the things that happened by some information we find out at the end, and I really hate that. I can't mention the other things because they would be too spoileriffic.
Only for You has an exciting storyline with mostly-likable characters and a bit of a mystery. Definitely check it out if you're looking for something intellectual that breaks the almost-typical prosaic mold from which a lot of new adult books seem to be cast.
Report Card
Cover
Characters
Plot
Writing
Steam
Overall:
3
**About Genna Rulon**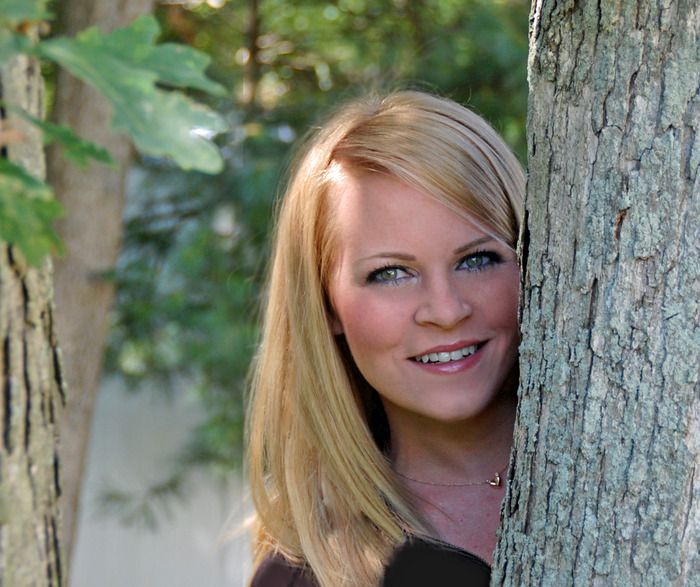 Genna Rulon is an up and coming contemporary romance author.
During her 15 years in the corporate world, Genna, inspired by her love of reading, fantasized about penning her own stories. Encouraged by her favorite authors, many of whom are indie writers and self-published, she committed to pursuing her aspirations of writing her own novels.
Genna was raised in Long Island, New York, where she still resides, surrounded by the most amazing family and friends. Married to a wonderful man, who patiently tolerates her ramblings about whichever book she is currently working on, even feigning interest relatively convincingly! Genna is blessed with two little boys who do their best to thwart mommy's writing time with their hilarious antics and charming extrapolations.
Find Genna Here: Website | Facebook | Twitter | Goodreads
***GIVEAWAY***
Signed Copy and eBook copies of Only for You, $25 Amazon Gift Card, and Signed Bookmarks
a Rafflecopter giveaway
Good luck and don't forget to check out the other stops on the tour!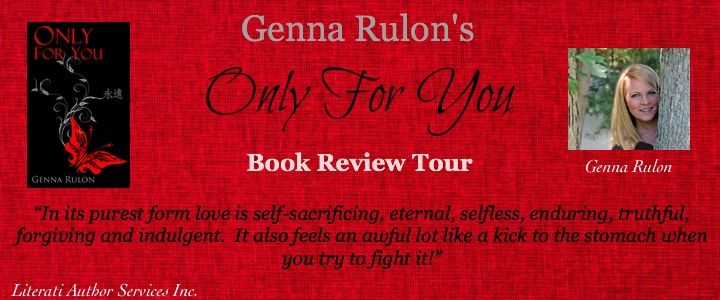 Related Posts