Masquerade
by
Nyrae Dawn
Also by this author:
Measuring Up
,
Touch the Sky
Series:
Games #3
Published by
Forever
on January 7, 2014
Genres:
New Adult
Pages:
320
Goodreads
Buy the Book
A biker. A tattoo artist. A love to last a lifetime.

Maddox Cross has always had to be tough. When his father went to jail for murder, the teenager took care of his sister and mother. Now on his own and working security at a night club, Maddox wants to become a tattoo artist-a dream that comes closer to reality when he falls for the hottest, most tatted woman he's ever seen. She's wild and beautiful, and Maddox will do anything to be with her.

Bee Malone came to town to open up her new tattoo parlor, Masquerade. Since being kidnapped as a young girl, Bee has had trouble getting close to anyone. But when she meets Maddox, she sees that under his hard biker's body is the sensitive soul of an artist. What starts out as a sizzling one-night stand soon becomes so much more.

Bee wants Maddox to join her tattoo business, but letting him into her life means revealing all her most intimate secrets. And as the past begins to intertwine with her present, Bee fears their love may not be as permanent as their ink . . .

Les Joseph: Don't you just love when you sit down to read a book, thinking you know exactly what's going to happen, and you wind up being so wrong, it's like the best thing ever?? That is exactly what happened to me with Nyrae Dawn's book, Masquerade, Book 3 of the Games series. Those of you who have followed this series from the beginning have no doubt been looking forward to this book and finding out more about Maddox—I know I sure was. He's been an enigma, a brooding, tortured bad boy who doesn't say much, but sure does love his sister, Laney. There were hints in Book 2, Façade, of what happened to hurt Maddox so deeply, but it's in this book we find out all the answers.
Of course, Maddox isn't the only one with a past and secrets of their own. He meets Bee, a blonde haired, tattooed, pierced girl with attitude bursting at the seams and she's everything he's tried to keep himself from wanting. She owns a tattoo parlor, Masquerade, and after a sizzling one-night stand in which the two believe will never result in them crossing paths again, Maddox winds up as her apprentice after a few stops and starts.
The chemistry between these two sizzles. The dialogue between the two is sharp and witty, and so poignant at times it will take your breath away. Maddox tries so hard to keep the wall between himself and Bee, but she's strong and fierce, and he gets her in a way he's never been able to connect with anyone else. It's scary and unnerving and he doesn't want to want her, but he so does.
His finger hooks through the belt loop on my jeans. His tug is gentle, but I come easily, the whole time yelling at myself, Back up! It's too much. You can't do this with him again.

"Stop making me want you." The same heat from his eyes is now in his words.

"Stop letting me have you," I reply, and it seems to inflame him more.

He pulls me closer again, right between his legs, as the other hand moves up to cup my cheek. His stare alone is burning me alive. Neither of us are smiling, both torn by this wild desire and the need to push the other away.

"Pretty soon we're going to hate each other if we keep doing this." The knowledge makes me a little sad, but I fight to bury it beneath my craving for him.

"I know." And yet, he still leans forward and I do too.
Nyrae Dawn has a way of sucking you in to her world and she doesn't let go until you get to the end. This book is no different. The premise of Bee being kidnapped then returned to her family, and the trauma associated with that is a fresh, gripping storyline and one I was immediately intrigued by. We were given bits of Maddox's story in Book 2, but in Masquerade, we find out even more about the events that happened to change his life and the lives of so many others. Laney and Adrian both make many appearances in Masquerade, and they're very welcome ones at that. The weaving of all their lives becomes much more solid in Book 3 and we definitely get a clear, true picture how the lives of Maddox, Laney, and Adrian have all been shaped by things out of their control.
Masquerade is a heavy book, very heavy in parts and at points it seemed to be excessive. The writing is strong, the plot even stronger, and I loved the way Maddox and Bee both grew with each chapter. I do wish that there was more time spent after all the secrets are exposed and Maddox and Bee start on their road of HEA. The ending seemed a bit rushed and after all the build-up and the careful, sometimes to the point of tedious, way Nyrae gave us pieces of the whole, I would have really liked to enjoy the reward after all the struggles just a bit longer.
I highly recommend this book. Be prepared to shed a few tears, be prepared to smile at Bee's snark and feistiness and for damned sure be ready to swoon because Maddox is one hot, sexy guy. Read it, you won't be sorry.
Report Card
Cover
Characters
Plot
Writing
Steam
Overall:
4
***EXCERPT***
I've never been the type of person who sits around and dwells on life. Bad things happen all the time and overthinking them has never done shit to change anything. I remember when I went back home—or to the place I should consider home—I didn't really understand what was going on. At thirteen I should have, but people who are kidnapped are supposed to have been hurt. They're mistreated and locked away. They aren't happy and loved the way I had been, so the whole thing was hard to wrap my head around.
For about a week after they sent me home, that's all I thought about. The people who raised me and the people who lost me. How they both loved me even though I didn't know quite how to feel about any of them. Didn't know how I felt about that screwed up word love at all. Rex and Melody had always told me they'd loved me but now I knew they'd stolen me. My real parents said they loved me but they didn't really know me. I wasn't their little girl anymore. How can you love someone you don't know?
It hurt and I cried, my chest feeling hollow and broken, knowing I should feel so many things I didn't know how to.
Nothing changed.
I didn't hurt any less. My real family was still broken-hearted and confused, and I'd lost who I considered my mom and dad.
That's when I decided I wouldn't lose myself in the past anymore. I wouldn't stress and dwell on things I couldn't change or even things I could, because if I made that decision the first time, there was a reason. I would stick with my choices, even when someone didn't get them or I got shit for being closed off or hard. And I wouldn't worry about love or try to figure it out.
Girls aren't allowed to feel that way, I guess.
This is why I'm pissed that I haven't stopped thinking about Maddox since he walked out of Masquerade.
***About Nyrae Dawn***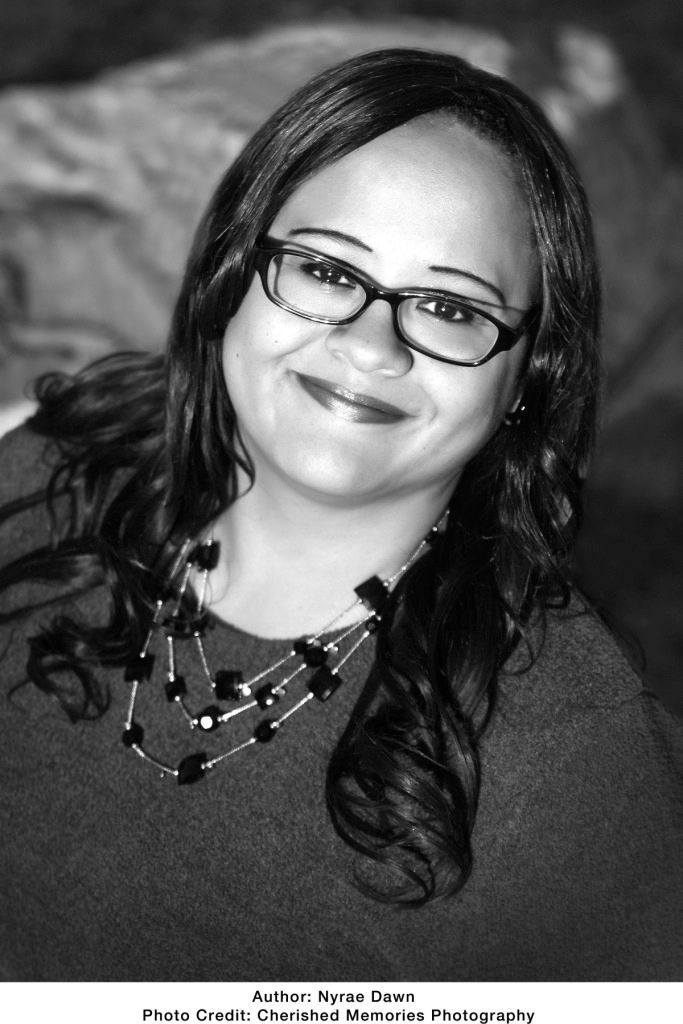 Writing has always been Nyrae Dawn's passion.
Nyrae gravitates toward character-driven stories. She loves going on emotional journeys with characters whether it be reading or writing. And yes, she's a total romantic at heart and proud.
Nyrae resides in sunny Southern California with her husband (who still makes her swoon) and her two awesome kids.
When she's not with her family, you can be pretty sure you'll find her with a book in her hand or her laptop and an open document in front of her.
Find Nyrae Here: Website | Facebook | Twitter | Goodreads
***GIVEAWAY***
Win an eBook Copy of Masquerade!
a Rafflecopter giveaway
Good luck!
Related Posts