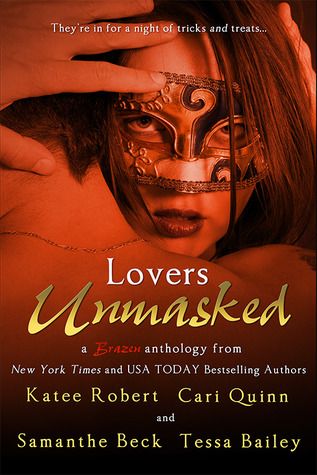 Lovers Unmasked
by
Cari Quinn
,
Katee Robert
,
Samanthe Beck
,
Tessa Bailey
Also by this author:
Bedded Bliss
,
Meeting His Match
,
Protecting Fate
,
Falling for His Best Friend
,
Foolproof Love
,
Forbidden Promises
,
Private Practice
,
Lover Undercover
,
Emergency Engagement
,
Officer Off Limits
,
Unfixable
,
Protecting What's His
,
His Risk to Take
,
Chase Me
,
Need Me
,
Make Me
,
Boiling Point
,
Worked Up
,
Too Wild to Tame
Series:
Come Undone #3.5
,
McCade Brothers #1.5
,
Line of Duty #1.5
Also in this series:
Lover Undercover
,
Officer Off Limits
,
Protecting What's His
,
His Risk to Take
Published by
Entangled: Brazen
on September 23, 2013
Genres:
Contemporary Romance
,
Erotica
Pages:
350
Goodreads
Buy the Book
Mystery and intrigue surround Halloween night as friends surrender to long-hidden desires, lovers relinquish control, and the heat of passion threatens to consume them all…

Seducing Mr. Right (Come Undone #3.5) by Katee Robert
Danielle has a plan—use the company Halloween party to seduce the sexy mail guy who works a few floors up who she's been meeting for coffee for the past few months. The only problem? He's not who she thinks he is, and he has seduction plans of his own.

Tempted by His Best Friend by Cari Quinn
Kindergarten teachers aren't known for breaking the rules, but Steph is ready to go undercover—and get under the covers—to work her magic on her best friend, Landon. Sexy costume necessary, multiple orgasms crucial, real identity optional.

Wicked Games (McCade Brothers #1.5) by Samanthe Beck
When Stacy discovers her sex-on-a-stick ex at her Hollywood Halloween blow-out, she decides to show the cocky homicide detective exactly what he's been missing. But she's not the only one plotting revenge, and Ian's the only one who can save her.

Protecting What's Theirs (Line of Duty #1.5) by Tessa Bailey
Lieutenant Derek Tyler and Ginger Peet have overcome every seemingly impossible hurdle on the path to happiness, but when they each receive life-changing news on the same day, will their hard-won trust stand up to the test? Or will their attempts to shield one another drive them apart?

Enjoy your tricks and treats in this sexy anthology featuring bestselling authors Katee Robert, Cari Quinn, Samanthe Beck, and Tessa Bailey.

Kassiah: I love reading anthologies and story collections because I get to taste a variety of authors that I might not otherwise have read. I love this particular anthology because it's from one of my favorite publishers and it's filled with stories from some of my favorite authors. So of course I wanted us to be a part of this tour as soon as I heard about it.
I'm going to tell you a little bit about each story, but really, you don't need me to go on and on about this–you just need to read it.
Seducing Mr. Right (Come Undone #3.5) by Katee Robert
I love the idea of a powerful CEO mistaken for the mail guy. Danielle Kastien has plans to finally seduce the guy she's been crushing on at the office Halloween party. What she doesn't know is that sexy Grayson Harper is the CEO–not the mail guy. And that she's about to be the one who is being seduced.
He moved closer and ran a finger down her arm. "I think I like you in leather."

She tried to cover up her shiver and went for bold. "Look at me. How could you not like me in leather?" …

"I'd like you much better out of it."
I really liked this story, even though I thought the ending was kind of abrupt and I question the authenticity of Danielle not knowing Grayson was the owner of the building she works in. The chemistry between these characters was combustible, and this was a hot, fun read. If you haven't checked out Robert's other books, you'll want to after reading Seducing Mr. Right.
Tempted by His Best Friend by Cari Quinn
I think this is the first time I read anything by
Cari Quinn
, but it won't be the last. I absolutely adore the best friends to more storyline, and once I got over the initial shock of the way things go down *ahem* with them, I liked this one. Teacher Stephanie Price is determined to make her best friend Landon Grant realize they're perfect for each other.
"I could blow your mind," she whispered, stunning him all over again. Between her fruity scent, full red lips, and bewitching blue eyes, she effortlessly drew him into the dark magic of her spell. She turned away, tossing the last words over her shoulder. "I could even make you beg."
This story was hot, but I always seem to have a problem with stories where the characters hook up anonymously just because one or both of them is wearing a mask. A mask (and even a darkened room) wouldn't disguise the years of knowing the shape and voice of the other. I don't know–I'm pretty sure I could pick out my BFF in the dark, and we live thousands of miles away from each other. Getting beyond that, I did like the story and am really looking forward to more from Quinn, especially if she writes anything focused on Steff and Lan's other best friend, Craig.
Wicked Games (McCade Brothers #1.5) by Samanthe Beck
Guise, buying this book is worth it just for this story alone, even though the others are great, too. It's no secret that I love
Samanthe Beck
and the
fucking hot
guys she writes. Tyler from
Private Practice
is one of my top ten favorite steamy guys
ever
. And Trevor McCade from
Lover Undercover
? Damn. So, it's really no surprise that I loved
Wicked Games
, too. If you've already read
Lover Undercover
(and if you haven't, you
must
), you'll remember Stacy is Kylie's sister and Ian is Trevor's partner. They had a "thing" but broke up. They get back together and sparks fly.
"Bite me." She struggled to stand up.

"Don't you worry. We'll get to that, but, in the meantime…"

He leaned over her to keep her in position and sent his fingers on a slow, unerring journey down her thong and into the juncture between her thighs, where she was warm, and soft, and very wet.

"Oh yeah, I win the bet."

She called him another rude name, but stopped struggling. A few more gentle passes over the slick silk had her widening her stance and arching her back to give him better access.

The urge to tear her panties off and bury himself inside her rushed through him. Somehow he resisted. "If I let go of you, will you stay put?"

A muffled, affirmative sound served as her reply. She'd turned her head back to the chair and he couldn't see her face. He decided it wouldn't do. "Say, 'Yes, sir. I'll stay put.'"

Her head popped up at that, and he caught the flash of hot blue eyes in the mirror. "You arrogant son of a—"

"Now, now. You'll hurt my feelings." He stopped stroking between her legs, and then removed his hand completely when
she tried to grind against the base of his unmoving thumb.

Her frustrated groan had him choking back a laugh. "Yes, sir. I'll stay put," he prompted.

Stubborn Stacy held out another moment, but then finally surrendered. "Yes, sir. I'll stay put," she gritted between clenched teeth.

"Good girl." He let go of her wrists and waited to see if she'd keep her word. She lowered her arms and held on to the seat of the chair. "Good girl," he repeated. "Since tonight is Halloween, good girls get a treat."
The lifting of the mask and the bending over the chair and the calling her "angel" and just…gah! I love Ian's personality, and I loved getting to see Trevor and Kylie still in love and happy. I would have liked more of him, though 🙂 I loved how much substance and mystery Beck was able to tell in such a short story. I was surprised by the ending, but I absolutely cannot wait for the next book in the series, Falling for the Marine.
Protecting What's Theirs (Line of Duty #1.5) by Tessa Bailey
This is the only one that I really think you need to read the other stories in the series to really understand what's going on. I read (and really liked)
Protecting What's His
;
Bailey
definitely has the powerful male character down, and
damn
if you won't fall in love with Derek all over again.
"Would you like to hear what happens next?"

She inhaled in a rush. "Yes, please. The devil is in the details."

"I guess that makes me the devil." One big, callused hand dropped to the outside of her thigh, coasting up her flesh just close enough to raise goose bumps on every inch of her body. Slipping underneath her skirt without hesitation. When he reached her backside, Ginger wanted to beg shamelessly for him to palm her roughly, knead her there. Instead, he merely brushed his fingers down the center of her bottom, along the cherry-red material of her thong. The simple touch had a devastating effect, every nerve ending singing with terrible, glorious need.

"I'm going to take some much-needed time with your mouth right now. While I do, you're going to continue stroking me until I'm so close to coming, I'll be ready to die just to drill you against this wall. But I won't. I'm going to stop you just before I bust. Then I'm going to lick the sweet pussy that's been waiting so patiently for me." He surged into her hand. "Come on, baby. Make me suffer."
I don't want to spoil too much, but I'm pretty sure the title does enough of that on its own. Both Derek and Ginger have always insisted on total honesty since they officially became a couple in the first book, and that hasn't changed. But they're both hiding something from the other–he's heading into a huge raid at work that's very dangerous and she…well. No spoilers. They each feel the other is slipping away because they're covering something up, and it threatens their relationship. I loved the realistic way Ginger felt about what's going on in the story and was happy to get to see more about this couple. He was pretty swoony.
Four super hot stories from four amazing authors. Whether you're just getting to know these writers or they're already your favorites, you can't miss grabbing this collection.
Report Card
Cover
Characters
Plot
Writing
Steam
Overall:
4
***INTERVIEW***
We're so excited that author Katee Robert stopped by to chat with us today!
Thank you so much for stopping by Steamy Guys After Dark today, Katee!
Thank you so much for having me!
We're pretty excited for our readers to check out Seducing Mr. Right, your novella in Lovers Unmasked. What sparked the idea for this story?
I had a conversation with my editor, Heather Howland, about doing a Halloween anthology. She had a few ideas of what she'd like to see, and I basically tackle hugged her and begged on one of the ideas in particular (the CEO who is mistaken for a mail guy) and then ran with it.
The idea is genius. Why will our readers swoon over the mail guy?
Put shortly, Grayson is sex on a stick. He's a little rough and has a thing for being in control of every situation that is pretty hot all around.
Agree. *fans self* Do you have any interesting writing quirks or rituals?
I nearly always have to have some kind of hot beverage at hand. I start my mornings with coffee and then transition over to tea. It's a weird little quirk of mine.
Not weird. We like coffee and tea, too. 🙂 What are the reactions of your family members if/when they read your books?
My mom reads all my books, and now my new in-laws do, too. The in-laws proudly proclaim to anyone they can pin down for half a second that I write smut, but the kind with a plot (LOL). And my mom accused me of getting inspiration from Hustler and then Hi-Fived me. We're a wacky family like that.
LOL That's awesome. How would you describe yourself in three words?
That's a really good question! Uh… We'll go with: Nerd, Wacky, Driven.
We think you're pretty, too. What's the best piece of advice you ever received from another author?
Don't read the reviews. I don't always follow it, but it's golden. People will always have opinions of my writing, for better or worse, but getting hung up on that will only stall me out in whatever I'm working on currently.
Totally great advice. Which character makes you swoon the most (yours or someone else's)?
Oh man. There are so many. I think my number one, though is Oberon. He's kind of one of the bad guys in my Sci-Fi series, Sanctify, but he's so brutal and brilliant and ruthless. It hits me in all the right places.
We love bad guys, too. Do you have any current or future projects you can tell us about?
I have a new Brazen series coming out this winter called Out of Uniform. As you can imagine, it has to do with military men and one of the heroes is a sheriff. It's kind of got a small-town feeling, and the heroes are some of my favorites that I've written to date (which is saying something, because y'all know how much I love Gabe).
We love Gabe, too, girl. So excited to meet your new guys. Is there ever anything that you always wish someone would ask you, but they never do?
Oh man! Another great question. I'm sitting here, contemplating, and I actually have no idea. OMG, I am so lame! But seriously, I'm mostly just thrilled to be here and chatting!
We're excited to have you. Thanks again for coming by, Katee. We can't wait for our readers to get to know your characters!
Thank you so much for having me!
**About Katee Robert**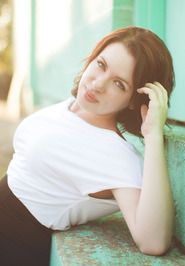 New York Times and USA Today bestselling author, Katee Robert, learned to tell stories at her grandpa's knee. Her favorites then were the rather epic adventures of The Three Bears, but at age twelve she discovered romance novels and never looked back.
Though she dabbled in writing, life got in the way—as it often does—and she spent a few years traveling, living in both Philadelphia and Germany. In between traveling and raising her two wee ones, she had the crazy idea that she'd like to write a book and try to get published.
Her first novel was an epic fantasy that, God willing, will never see the light of day. From there, she dabbled in YA and horror, before finally finding speculative romance. Because, really, who wouldn't want to write entire books about the smoking-hot relationships between two people?
She now spends her time—when not lost in Far Reach worlds—playing imaginary games with her wee ones, writing, ogling men, and planning for the inevitable zombie apocalypse.
Find Katee Here: Website | Facebook | Twitter | Goodreads
***GIVEAWAY***
Win a Kindle Fire HD and a one-hour psychic reading!
a Rafflecopter giveaway
Related Posts