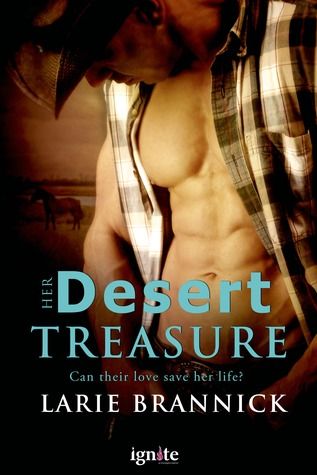 Her Desert Treasure
by
Larie Brannick
Published by
Entangled: Ignite
on April 14, 2014
Genres:
Contemporary Romance
Pages:
178
Goodreads
Buy the Book
Inheriting her grandfather's ranch is the perfect opportunity for Meg Reynolds to begin again. The land is her only chance to hold onto the last bit of family she had. But Jake Matthews has other plans. He says her grandfather wanted a horse refuge on the land, and despite the heat blazing between them, Jake will do whatever it takes to get what he wants. What Jake realizes he wants is Meg, but someone's threatening her and seems willing to kill her for her land. Meg doesn't know who she can trust. When she's kidnapped, it's up to Jake to help rescue her before he loses the chance to tell her that he cares more for her than the land that stands between them…

Kassiah: Megan Reynolds inherited a sizable estate from her grandparents, including a 1,000 acre ranch in Big Rock, Colorado, which is perfect fit for her dream of having a living classroom. Besides missing her only remaining family, Megan has other problems–the will was contested by a mysterious person. That person is Monty Anderson, who wants to develop the land and made up a bogus claim that he was in talks to buy the land. He'll do anything to ensure that he gets the land, including stalking and something much worse.
Veterinarian Jake Matthews' only interest was trying to honor Meg's grandfather's wishes by protecting the wild horses on the land–until he lays eyes on Meg. The chemistry between the two is instantaneous and he wastes no time asking her out.
Meg helps Jake out at his understaffed clinic and when his parents show up unexpectedly with a blast from his past, he introduces Meg as his girlfriend. Even though they both have pasts, things quickly progress from fake to real.
"This will have to last us 'til tonight." He'd meant for the kiss to be gentle, teasing, a promise of things to come. But when Meg opened for him, all teasing stopped. His fingers threaded through her hair, pulling her up to get closer. The feel of her against him, the combination of her scent, taste, drove him to the edge. Jake pulled away from her, breaking their kiss. "Today is going to be torture until I get back to you."
I loved that Meg stood up for what she believed in, including Jake. Jake is protective and goes after what he wants. And he's hot.
"God, you feel good to me. You taste so good to me. you're all I could think about today…"
The trouble with Monty and trying to convince his parents that they're a real couple has Jake feeling uneasy, so he tries to convince Meg to stay at his place until it's all sorted out. Things heat up (a lot!), and Meg agrees to stay.
While they have differing opinions on what should happen with the land, but nothing is as nefarious as Monty's plans. Everything comes to a head as Meg pieces together just how far Monty is willing to go to get what he wants.
I liked these characters and this storyline. Things moved very quickly with Jake and Meg, but I've got no complaints about that 🙂 If you're looking for a fast read with a little drama, a sizzling hot couple, and a super sweet ending, look no further than Her Desert Treasure.
Report Card
Cover
Characters
Plot
Writing
Steam
Overall:
3.5
***About Larie Brannick***
Larie is a Colorado girl, born and bred. She and her husband live in a small mountain town where they are settling into life as empty-nesters. When she isn't writing, reading or thinking about romance, she works for two busy orthopaedic surgeons.
Find Larie Here: Website | Facebook | Twitter | Goodreads
***GIVEAWAY***
Enter to win a $25 Amazon GC from Claudia Shelton and a $25 Giftcard from Larie Brannick!
a Rafflecopter giveaway
Related Posts