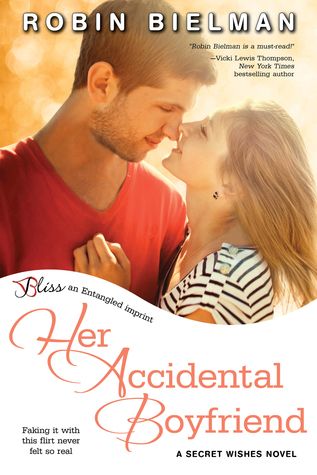 Her Accidental Boyfriend
by
Robin Bielman
Also by this author:
Wild About Her Wingman
,
Keeping Mr. Right Now
,
Yours At Midnight
,
Worth the Risk
,
Risky Surrender
,
His Million Dollar Risk
,
Blame It On the Kiss
,
Falling for Her Bachelor
,
The Best Friend Bargain
Series:
Secret Wishes #2
Also in this series:
Wild About Her Wingman
Published by
Entangled: Bliss
on October 14, 2013
Genres:
Contemporary Romance
Pages:
240
Goodreads
Buy the Book
Faking it with this flirt never felt so real...

Kagan Owens has a secret. One she thought she'd escaped by leaving New York, but when her past follows her to her temporary new life, Kagan lets a teeny lie slip. And now the town's biggest playboy and flirt, Shane Sullivan, has become her pretend boyfriend—just until she's ready to return to NYC. But the handsome, fun-loving Shane makes it tough to determine where their friendly agreement begins and ends…

Shane has no intention of settling down—in fact, his job depends on it, and nothing's more important than his work. Still, he can't help but agree to Kagan's scheme, if only to find out more about the mysterious beauty. But when every touch from her sets his heart and body on fire, he realizes playing an accidental boyfriend may be more than this he bargained for—and more than he can give.

Kassiah: I really love Robin Bielman's characters and stories and was pretty excited to check out Her Accidental Boyfriend.
Kagan Owens temporarily escaped her billionaire father's plans for her life when she fled from her high-society job and obligations in NYC to the small coastal town of Cascade. She works in relative anonymity as a waitress and spends her days living the small-town life, fueled in part by her fantasies of local bad-boy architect, Shane Sullivan.
Okay, he'd been the lead in all of [her fantasies], with his square jaw, dazzling blue-gray eyes, and dark, neat hair that she really wanted to mess with her fingers. Not to mention he had a rock hard body that put all other bodies to shame. But she had no plans to act on the urges he stirred. For one, he held the title of first-rate flirt and town Casanova, and every single girl in a twenty-mile radius had set her sights on him.
When Brett, the guy her father intended for her to marry, shows up and demands she return home with him, Kagan tells him that she can't go back…because she's met someone in Cascade, and it's serious.
Shane just happens to walk up at pretty much that exact moment and plays along. When Brett decides to stick around, Kagan and Shane realize they're going to have to convince everyone that they're together.
"This doesn't mean we need to be together twenty-four-seven or anything. I've got work, you've got work. But since Brett has no plans to leave we do have to make it look real, which means lying to everyone–your mom and dad, your sister. Friends. I'm sorry I've put you in that position."

He tucked a piece of hair that had escaped her updo behind her ear. "Quit apologizing, okay? I'm happy to help you out."

"You're positive?" Under the street lights it wasn't easy to read his expression, but she was pretty sure she saw reluctance mixed in with his acquiescence.

"Truthfully, being anyone's boyfriend is not on my radar, but I can fake it will Brett's here. You're going to owe me big time when we're through, though."
They start spending time together, and you know what happens–what started out as fake isn't so fake anymore.
She bit her bottom lip and then leaned in a little closer, played with the hair at the nape of his neck. "You and me." She stared into his eyes. He stared back. "How I'd like to–"

He cut her off by smashing his mouth against hers. Fierce. Passionate. Kissing her with the kind of wild abandon that led to tearing clothes off each other.
I really liked Shane. He was sweet and attentive and swoony. He was a fun guy to be around. I loved that he was always thinking of Kagan's feelings and wanting to be good for her, even when it was just a ruse. I also liked the other characters, especially Shane's sister and best friend and Kagan's best friend.
Kagan was okay. Some of the time I liked her, but some of the time I didn't. I had a real issue with her constantly thinking of Shane as just a "wham-bam-thank you-ma'am kind of guy." He obviously cared about his family and about her, to put his life on hold to help out with her charade. He even took a vacation to spend time with her, and since she didn't have any close friends who told her about how he "loved her and left her," I didn't really get why she was so adamant about him being a playboy. Most of the things I liked about her were the things that Shane liked about her. He made me appreciate her more.
There were a few other things that I didn't like, including Kagan's father and Shane's boss, but overall, I enjoyed reading this story and will definitely be back for more from author Robin Bielman. With an awesome guy that you'll definitely fall for, an almost idyllic setting, and a storyline that will never get old, Her Accidental Boyfriend is a great way to spend an afternoon.
Report Card
Cover
Characters
Plot
Writing
Steam
Overall:
4
Related Posts