We are so excited to be participating in the blog tour for Getting Lucky Number Seven by Cindi Madsen. We've got a great giveaway to share with you as well as our thoughts on the book. First, here's the 411:
Getting Lucky Number Seven
by
Cindi Madsen
Also by this author:
Cinderella Screwed Me Over
,
Falling for Her Fiancé
,
Resisting the Hero
,
Ready to Wed
,
Second Chance Ranch
,
Anatomy of a Player
,
The Bad Boy's Baby
Published by
Entangled: Embrace
on April 28, 2015
Genres:
New Adult
Pages:
270
Goodreads
Buy the Book
What's your lucky number?

Lyla Wilder is done being the shy, chemistry nerd extraordinaire. While every other college student is out having fun, Lyla is studying. With her cat. Well, she's played it "safe" quite enough, thank you. So she creates a "College Bucket List"?with item #7 being a night of uninhibited, mind-blowing sex...

But she needs some help from her man-whore best friend.

Hockey player Beck Davenport thought Lyla's transformation would be subtle. Man, was he wrong. With every item she ticks off, Beck finds himself growing seriously hot for his sweet, brainiac best friend. And if he's not careful, he'll end up risking their friendship in order to convince Lyla that he might just be her lucky #7...
Watch the book trailer for Getting Lucky Number Seven right here:

Kassiah: I love Cindi Madsen and was crazy excited to check out her latest title, Getting Lucky Number Seven. One of my favorite books is her Cinderella Screwed Me Over, so when I saw that she was writing New Adult–and that it was a BFFs to more story, I was all over it.
Two months after her longtime boyfriend dumped her, nerdy college student Lyla Wilder is ready for a change in her life.
"I want to try new things. I spent high school playing things safe. Being the perfect girl with perfect grades that my parents wanted me to be so I could get into a great college. But here I finally am, and I don't want to be the nice girl anymore. I want to be the hot girl."
She creates a bucket list and enlists the help of her best friend, handsome hockey star Beck Davenport, to help her cross the things off the list. When he finds out about number seven on the list, a night of mindblowing sex, he can't help but start to see her in a new light.
…if Lyla was going to keep wearing skimpy outfits, I might need to stab my eyes out to keep from thinking inappropriate thoughts about my sweet, brainiac friend.
As Beck tries to help Lyla cross things off her list and become less inhibited, the lines between them become blurred. But Beck's not a typical college student, and he knows he can't make Lyla any promises.
"I can't be with you, Lyla. Not the way you want."
They agree to a FWB situation, and you know what happens. This story is cute, if not predictable, and I love the way Cindi Madsen writes. I love the banter that Lyla and Beck share. They're cute together.
"I think you look fine the way you are."

She tilted her head and sighed. "But what did you think when you first met me? You can be honest. I'm sure you were a little disappointed when you found out I was your assigned chem partner."

"Well, yeah," I said, "but that was because with how damn cute you were, I was sure you'd be stupid, and that meant I was going to end up doing all the world." She rolled her eyes, and I smiled, unable to keep from adding, "Then I caught your scent, and your blood smelled so good, I was afraid I'd kill you and eat you. That's why I was all broody and denting the table the first day."
**grin**
I love Beck. He's protective and sweet. He's hot and athletic. He's got his own secrets, but he does everything he can to help everyone else's dreams come true.
Lyla was okay. I loved that she was smart and funny, but the total transformation that she was willing to go through rubbed me the wrong way.
For months all I'd wanted was to be looked at instead of looked through, but now I wasn't sure I cared what the guys went crazy for. My jeans were so damn tight that I wished for my skirts, and I even missed my scarves. Maybe I'd used them to hide, but I missed the bright colors. And their warmth.
It was hard for me to root for her when she was willing to change everything about herself to become more appealing. It all worked out in the end though, and I did like her relationship with Beck.
For a fun fast-paced read with a hot hockey player that you'll swoon over, Getting Lucky Number Seven is a perfect story for all New Adult lovers.
***About the Author***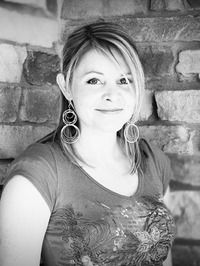 USA Today Bestselling author Cindi Madsen sits at her computer every chance she gets, plotting, revising, and falling in love with her characters. Sometimes it makes her a crazy person. Without it, she'd be even crazier. She has way too many shoes but can always find a reason to buy a new pretty pair, especially if they're sparkly, colorful, or super tall. She loves music, dancing, and wishes summer lasted all year long. She lives in Colorado (where summer is most definitely NOT all year long) with her husband and three children.
Cindi is the author of YA books All the Broken Pieces, Cipher, Rift, Resolution, and Demons of the Sun, and adult romances Falling for Her Fiancé, Act Like You Love Me, Resisting the Hero, Cinderella Screwed Me Over, and Ready to Wed.
Find Cindi Here: Website | Facebook | Twitter | Goodreads
***GIVEAWAY***
Win a $15 Amazon Gift Card
a Rafflecopter giveaway
Good luck!
Related Posts