We are absolutely thrilled to present Falling Deep, the second book in the Nelson Island series by Diana Gardin, to you today. We this book and can't wait to share our thoughts. We've also got a great interview with Diana, but first, here's the 411 on Falling Deep: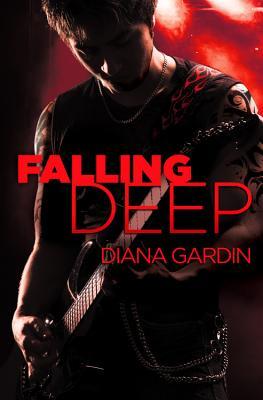 Falling Deep
by
Diana Gardin
Series:
Nelson Island #2
Published by
Forever Yours
on April 7, 2015
Genres:
Contemporary Romance
,
New Adult
Pages:
320
Goodreads
Buy the Book
Reed Hopewell is a lot of things to a lot of people . . .

To his parents, he's the son who needs to get serious. To his friends, he's the player they all want to be. And to his fans, he's the hottest rocker in Charleston. But never has Reed been anyone's hero-until the night he finds Hope.

Hope Dawson can count the number of men she trusts on one hand. Definitely not the guys she goes out with or the stepfather who treats her like property. She'd be out of his house tomorrow if not for the need to protect her little sister. But when things at home go from bad to worse, Hope has to act fast-and Reed is the only person she can turn to . . .

Kassiah: Twenty-one year old Hope Dawson is trapped in a life working as an escort for her stepfather in order to protect her younger sister. She isn't sleeping with her clients, but it's only a matter of time before her stepfather forces her to do that. When playboy musician Reed Hopewell saves her from being assaulted one night, it's both the best thing and the worst thing to ever happen to Hope. Well, I guess to both of them.
Reed is twenty-three and torn between pursuing his passion and joining his place in the family business.
"I know you love the music thing and you're really good at it. It's time to decide…are you going to make a life with us here at the company or are you going to get out there and do the singer-songwriter thing full-time? It's now or never, little bro."
Determined never to fall in love, he's even more torn up when he saves Hope and can't get her out of his mind.
"But if I see her again…"

"If you see her again, you think you'll go man-whore Reed on her?"

Reed nodded. "Bingo. She's hot, man. Like…lingerie-model hot, only shorter. She's got this hair…never seen anything like it, it's so long and…and her ski is this bronze color that makes me crazy, wanting to touch it. And her eyes…her eyes are this brownish green that keeps glinting flecks of gold in the light. And she was so petite, I think I could fit my hands around her waist…"
I loved this. It reminded me of Aladdin when he's going on and on about Jasmine's hair and eyes and …yeah.: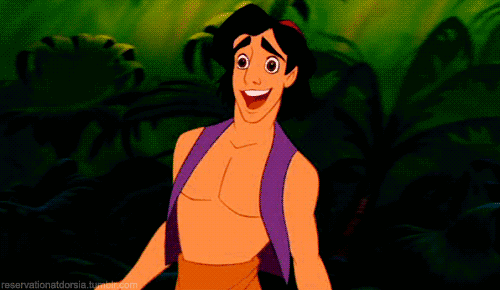 As much as they want each other, both Reed and Hope try to avoid the inevitable.
"Holy hell," he murmured against her skin. "I've done this before. I swear I have…why is it all so much…more tonight?"

"Because it's us," she said simply. "And there's something about us, Reed. I feel it, and so do you."
But Hope has secrets and isn't willing to tell Reed what's going on in her life. What happens if he finds out what Hope's job really is and that she's not giving it up?
I haven't read anything by Diana Gardin before, but I really enjoyed this book. You know how I feel about Rockstars and playboys who fall head over heels for a girl he doesn't see coming, so this book had lots of stuff that I loved. I loved the storyline and the characters, especially (no surprise here) Reed. He goes through a true transformation, and I enjoyed taking the journey with him. He was sweet and swoony and Southern. I love guys from the South!
It felt like he'd been waiting years to kiss her, to feel her body molding against his, to feel her hands tangling in his hair as they now were. The little surprised gasp that vibrated against his lips as he grabbed her only fueled his need to get as much of her touching as much of him as he possibly could.
As for Hope, I get why she does it but the push and pull with him drives me crazy. I'm glad she realizes what she's done pretty much right away instead of being stupid about it until the last second of the book. I loved her sister and her best friend, Morrow, and I hope that Gardin has plans to continue this series with him.
Falling Deep is a quick read with lovable characters, a hot romance, and a believable storyline. If you like rock star romances or books with swoony guys, you'll love this one, too.
Report Card
Cover
Characters
Plot
Writing
Steam
Overall:
4.5
***INTERVIEW***
Thanks for stopping by Pretty Sassy Cool today, Diana! Tell us a little about Falling Deep. Was it a fun book to write?
Thanks so much for having me!

Falling Deep was SO much fun to write. It was the second time I'd delved into Nelson Island, and I had a good feel for the characters and the place. Reed's story just flowed really naturally. I'm not sure if its because I'm so connected with his character, or because I was so much more comfortable writing the setting this time.
Well we loved it all. Rock stars make us weak in the knees. What kind of research did you do to prepare for Falling Deep?
Reed definitely made me weak in the knees all the time as I wrote him! I actually got into writing Reed's story first, getting the plot line established and a feel for what actions he'd take. Then I went back and talked to a guy I know who plays guitar about his experiences while onstage. Some of the story takes place in clubs, and I already did that research for four years while in college! I live in South Carolina, but not in the Charleston area, so I spoke to friends who do live there about the living, breathing pulse of the city so that I could get it right.
The setting is perfect and one of our favorite things about the book. How would you introduce Hope to readers?
I really try to write female characters that female readers can get behind. Hope is in a difficult situation in her life. I can't tell you how many times I've read female characters that I just want to shake and say, "change your situation!" But Hope is the type of girl who absolutely would change it if she could. She just can't, and you'll see why. She's strong and independent, and so full of love. She's Reed's equal in every way, and I think they're so great together.
We liked her a lot, and that's exactly how we felt about her, too. Why will our readers swoon over Reed?
Oh, my. REED! I am so into him, and I think its because he's the first real Alpha male I've written. He's edgy and hot, but he's also raised in the South so he's a gentleman at heart. He isn't aware he has the ability to love someone, but when he meets Hope and falls for her, he loves her with everything inside of him. He's so good at being there for her, and it's remarkable that he didn't know he had the ability. He is able to be rock-hard at times, but also vulnerable and loving at others. Then you strap a guitar to his chest, and he's kind of the perfect man! *swoon*
YES! We can't say enough about how much we love him. So a little about you, now 🙂 How would you describe yourself in three words?
Oh, this is so hard. I talk to my friends about this sometimes, and find that the way I describe myself isn't always the same that they think of me. So I'll try to describe myself the way others think of me, that's probably more accurate.

Rebellious
Free-spirited
Loving
*nods* Which character makes you swoon the most (yours or someone else's)?
I'm not just saying this because the interview is about Falling Deep; the true answer is REED! I just love him so much, for his flaws, his beauty, his talent, and his devotion to those he loves. These are amazing qualities in any man. But another character who isn't mine who makes me swoon is Nash from Jay Crownover's Marked Men series. I mean, those eyes, the ink, and that cool and aloof demeanor? Oh, my word! Love him.
We love Nash (and Reed!), too. Do you have any current or future projects you can tell us about?
My agent currently has her hands on the first in my new military New Adult romance series. I'm hoping we can find a home for it in the next couple of months. Then I guess I'll have an announcement to make
Oh! We can't wait for that! Is there ever anything that you always wish someone would ask you, but they never do?
I had a difficult time thinking of an answer for this question, but then it hit me. No one has ever asked me the hardest part of being an author, of the career itself. I would say the hardest part is breaking into the amazing, awesome world of New Adult. There are so many fabulous authors and books out there that I feel like the new kid on the block. It's hard to feel accepted sometimes. It's difficult to get new readers to take a chance on your book. I know it won't always be that way, but for right now that's definitely my biggest challenge.
Great answer, Diana. Thanks again for coming by. We can't wait for our readers to get their ::grabbyhands:: on Falling Deep!
Thank you! I can't wait for everyone to meet Reed!
***About Diana Gardin***
Diana Gardin is a wife of one and a mom of two. Writing is her second full time job to that, and she loves it! Diana writes contemporary romance in the Young Adult and New Adult categories. She's also a former Elementary school teacher. She loves steak, sugar cookies, and Coke and hates working out.
Find Diana Here: Website | Facebook | Twitter | Goodreads
***GIVEAWAY***
Win a copy of Falling Deep!
a Rafflecopter giveaway
Good luck!
Related Posts