You know we're totally Ethan Frost fans, so we were very excited to participate in the tour for Exposed by Tracy Wolff. We've got an excerpt to share with you as well as a great giveaway, but first here's the 411 on the book:
Exposed
by
Tracy Wolff
Also by this author:
Crash Into Me
,
Drive Me Crazy
,
Ruined
,
Addicted
,
Fade Into You
Series:
Ethan Frost #3
Also in this series:
Ruined
,
Addicted
Published by
LoveSwept
on May 5, 2015
Genres:
Contemporary Romance
Pages:
281
Goodreads
Buy the Book
Ethan Frost, the irresistible leading man from the New York Times bestsellers Ruined and Addicted, returns once again in Exposed—a novel that's perfect for fans of J. Kenner and Sylvia Day.

Will Ethan Frost go too far for the woman he loves?

The moment Chloe Girard walked into my life, she exposed secrets and emotions I always thought were best kept buried.

She wants to move on, to ignore the past. But I can't do that. Not when she still suffers. And not when the man who hurt her remains unscathed. So when I discover the perfect opportunity to make him pay for what he did to Chloe, I can't walk away, no matter the consequences.

But there's a fine line between justice and obsession. As I turn up old crimes and new lies, I know that I'm playing with fire—and risking the very foundations of our relationship.

My love for Chloe is absolute. I just hope it's enough to save us both.
Kassiah: Just like with the other books in this series, I have mixed feelings about Exposed. This will be spoilery for those of you who haven't read Ruined or Addicted, but I'll try to keep that to a minimum.
Exposed picks up a week after the end of Addicted, with Ethan and Chloe determined to work everything out. They're planning to get married right away, but the past still hangs over their heads. Chloe wants Ethan to let it go, but he just…can't.
I don't know how to do this. How to love Ethan when he's so hell bent on revenge.
When everything seems like it's falling apart in the midst of their whirlwind romance, can they trust each other enough to tough it out this time?
Since I read the first two books so long ago, it's tough for me to remember that these two characters have only been together a few months. I think someone picking up the books for the first time won't have that problem, but it was difficult for me to keep that in mind. The thing that I liked the least about this book was that as much as they said that there was nothing in life more important to them than each other, their actions didn't follow that. Their immaturity and lack of trust in each other can be explained by their newness, and that's important here.
There were lots of things that I liked, though. I still love Ethan and his complete devotion to Chloe. I thought this book had a great storyline and definitely had a lot going on. It was hot and sexy.
And then I kiss her like I've been dying to for days, for weeks. I kiss her like she's the most important thing in the world to me. Like she's my everything.
Seriously. Tracy Wolff writes some really great smut. I also loved the realism of Ethan grappling with his feelings of protectiveness for both his brother,Brandon, and Chloe, the love of his life.
For a second, I can't believe that this is where we've ended up. I've spent my life protecting Brandon. Taking care of him, helping him make important decisions, paying for him to go to the best universities–and fixing his mistakes.

And now I'm here to tear all that down, to destroy it–and him, if I have to.
I'm still not crazy about Chloe, even more so in this book. She wants to be sassy and independent, but she's still childish and at times, ridiculous and bratty. I understand her wanting to be taken seriously at Frost Industries, but thinking that there isn't going to be some degree of nepotism when her husband owns the company is naive. Something happens with her that made me want to flounce this book. For real.
I expected more from Chloe this time around.
You and me both, Ethan.
I can't really say much else about this story without spoiling everything. I am glad that Wolff continued the story and gave us some closure to things that were going on. I'm excited that there will be more in this series, and I'm definitely hoping that Flawed is going to focus on Ethan's friend, Sebastian. If you want to read something incredibly hot with an amazing storyline, then check out the Ethan Frost series by Tracy Wolff. You'll be pulled in as much as I was.
Report Card
Cover
Characters
Plot
Writing
Steam
Overall:
3.5
***EXCERPT***
When I can breathe again—think again—I scoop Chloe into my arms and carry her into the bathroom for a quick shower. She's soft and pliant, her body melting against mine under the warm spray, and it takes every ounce of self-control I have not to take her again.
And again.
But Tori is waiting downstairs to help her pick out a wedding gown and the longer I keep her in this room, the longer it will be before I can make her my wife. And while, logically, I know it won't be a big deal if we don't end up getting married until tomorrow, I also know I don't want to wait that long. I'm determined to put a ring on Chloe's finger, to tie her to me forever, before something else goes wrong.
With our rocky history, I think my concern is justified.
Not that I think anything bad is going to happen, but if it does—if it does, I want the reassurance that Chloe belongs to me, no matter what.
"You're awfully brooding for a man about to get married," she tells me, tilting her head up for a quick kiss.
The water is streaming over her, and she looks sexy as hell.
"Not brooding," I answer before pressing my lips to hers in a kiss that turns from soft to heated in an instant. "Just thinking about how lucky I am to have you."
A lot of women would probably melt at that line, especially considering I mean every word of it. But not my Chloe. She just rolls her eyes at me. "Think you're pretty charming, don't you?"
"I would, but there's this hot redhead who's made it her mission to keep me in my place."
She laughs then, wrapping her arms around my neck and pulling me down for another kiss. "Her life's mission," she whispers against my mouth.
Those three words are all it takes to make me hard again. "You're mine," I tell her, sliding my hands to her waist to play with her belly chain.
"I am," she agrees, in between soft kisses to my jaw and throat. "And you're mine."
She presses her mouth to my collarbone, nips sharply enough to leave a bruise. It's her way of marking me as surely as I've marked her.
It's the last straw. Fuck the schedule. Fuck worrying about Brandon. Fuck everything but this moment, here and now, with the woman I love.
I slide my hands around to her back, then down to cup her ass as I lift her against me.
"We can't," she tells me, even as she wraps her legs around my waist.
"We have to," I answer, sliding inside of her. She's hot and tight and wet, so wet, despite her halfhearted protest.
"Tori and Sebastian—"
"Are busy people. They probably don't even realize we're running late."
"But—"
I suck her lower lip into my mouth, bite down softly. She moans, trembles. Her fingers clutch at my shoulders as she arches against me.
It's all the encouragement I need. Slipping one of my hands between us, I glide my fingers over her breasts. I pinch her nipples, stroke her stomach. Then, just as she whimpers a little—the sound getting lost in the press of my mouth against hers—I slide my thumb across her clit. Once, and then again and again.
She cries out and I revel in the soft, broken sound. In the way she leans her head back against the cool tile of the shower and the way her body clenches around my cock. It's the best fucking feeling in the world.
"You sure you want to hurry this?" I tease. "Sure you want to run off and meet Sebastian and Tori?"
"Who?" Her voice is faint, her eyes glazed.
It only turns me on more, the way she loses herself in me and what I'm doing to her.
The way she loses herself in us.
***About Tracy Wolff***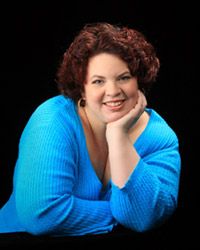 Tracy Wolff collects books, English degrees and lipsticks and has been known to forget where—and sometimes who—she is when immersed in a great novel. At six she wrote her first short story—something with a rainbow and a prince—and at seven she forayed into the wonderful world of girls lit with her first Judy Blume novel. By ten she'd read everything in the young adult and classics sections of her local bookstore, so in desperation her mom started her on romance novels. And from the first page of the first book, Tracy knew she'd found her life-long love. Now an English professor at her local community college, she writes romances that run the gamut from contemporary to paranormal to erotic suspense.
Find Tracy Here: Website | Facebook | Twitter | Goodreads
***GIVEAWAY***
Enter to win a Loveswept Bundle
a Rafflecopter giveaway
Good luck and be sure to check out the other stops on the Exposed by Tracy Wolff blog tour!
Related Posts