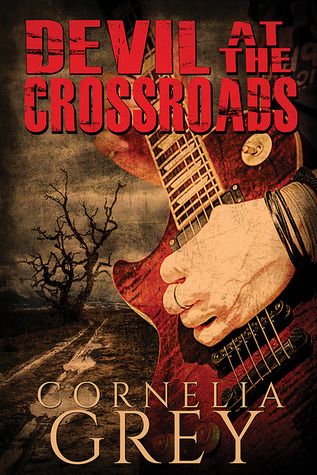 Devil at the Crossroads
by
Cornelia Grey
Published by
Riptide Publishing
on September 21, 2013
Genres:
M/M Erotica
Pages:
75
Goodreads
Buy the Book
The devil covets more than his soul ...

Six years ago, Logan Hart sold his soul to the devil to become the greatest bluesman of all time—and now the devil has come to collect.

The irony is that Logan squandered his gift. High on fame, money, and drugs, he ignored his muse and neglected his music. And despite managing to escape showbiz in a moment of clarity, it's too late to redeem himself. All that's left is to try to go out with some dignity. Alas, the prospect of an eternity in Hell isn't helping much with that goal.

But Farfarello, the devil who bought Logan's soul, isn't ready to drag him down to Hell quite yet. He's just spent six years working his ass off to whip a bluesman into shape, and he refuses to let that—or the opportunity for more sinful pleasures with Logan—go to waste.
Read an Excerpt of Devil at the Crossroads at Riptide Publishing.

Les Joseph: I'll be honest, stories with the Devil as an MC aren't usually my thing, but the blurb about this one piqued my interest. Devil At The Crossroads by Cornelia Grey was definitely a pleasant surprise. It's a story that's been done many times before, but after the first few sentences, you won't even care.
Enter Logan Hunter, a down-on-his-luck country boy destined to work in the coal mines if they don't kill him first. Desperate to escape his desolate future, Logan grabs his guitar, a flashlight, and sets out to make a deal with the Devil, and boy does he ever. Enter the Devil. Farfarello sure isn't your typical Devil. Dressed in tight jeans, a faded band t-shirt, and a worn leather jacket, the man appears after Logan summons him by playing his guitar.
It doesn't take long for a deal to be made. It's simple. Logan wants to be a great blues guitarist, the best in the world, adored by everyone, with all the trappings of fame. Money, power, glory … he wants it all. In return, he offers himself.
"I thought you wanted to play the blues," the devil said, tapping a finger on his knee. Tap. Tap. It was a faint sound, and yet it had an echo, a . . . something that made Logan think of claws and sharp teeth and ripped flesh.

"Yeah. That—that too, of course." Logan swallowed. "I want you to make me into a great blues guitarist. And also, you know. Famous and stuff."

"And stuff," drawled Farfarello. His teeth gleamed, capturing shards of the waning torchlight. When he looked away, Logan felt as if someone had just stopped compressing his chest. He could breathe and move again, no longer pinned in place by those damned red eyes.

"So . . . we have a deal?" Logan prodded carefully.

Farfarello shrugged. "Sure. I will give you everything you've asked for," he said, turning back to stare at Logan. Farfarello's voice seemed very far away, echoing in hollow, rocky gorges, holding endless fires and screams, screams. "I will give you fame and riches, and I will make you into a great bluesman. And at the stroke of midnight, six years from now, I will come for you. You will be mine, then, for me to do with as I please."
Not so bad a deal … or is it?
Of course like with most things, getting what you wished for isn't all it's cracked up to be. Logan does become the world's best blues guitarist, but he's always too drunk or too high to enjoy it. He squanders his talent, spends all his money, and on the night of the sixth year when his time is up, he's ready to face the Devil. What happens next is NOT what Logan envisions. Not even close. I won't spoil it, but damn.
Devil At The Crossroads was a great, fun read, and I enjoyed it much more than I expected to. Short stories are always hard; you're often left with wanting more, but in this case, it was perfect. If you want something to read to pass a short bit of time, definitely give this one a go. The writing is sharp, the characters are compelling, and the chemistry is hot! You definitely won't be wasting your time spending it with Logan and Farfarello. Don't be surprised if you find yourself liking the Devil, he's something else!
***ABOUT CORNELIA GREY***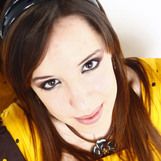 Cornelia Grey is a creative writing student fresh out of university, with a penchant for fine arts and the blues. Born and raised in the hills of Northern Italy, where she collected her share of poetry and narrative prizes, Cornelia moved to London to pursue her studies.
She likes cats, knitting, performing in theatre, going to museums, collecting mugs, and hanging out with her grandma. When writing, she favors curious, surreal stories, steampunk, and mixed-genre fiction. Her heroes are always underdogs, and she loves them for it.
Related Posts