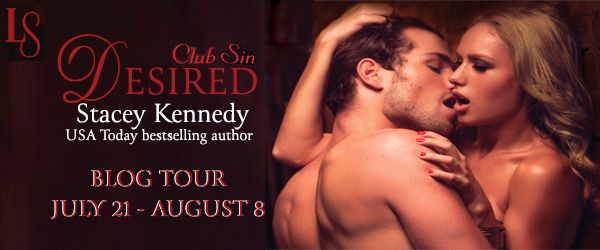 We are stoked to participate in the blog tour for Desired by Stacey Kennedy today! We've got an exclusive excerpt to share with you, but first, here's the 411 on the book!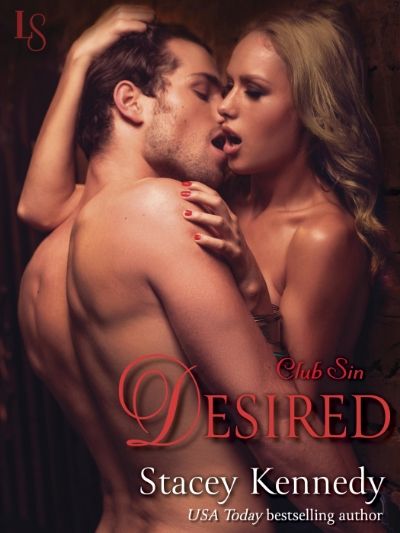 Desired
by
Stacey Kennedy
Series:
Club Sin #3
Published by
LoveSwept
on July 22, 2014
Genres:
Contemporary Romance
,
Erotica
Pages:
256
Goodreads
Buy the Book
Readers of Fifty Shades of Grey are sure to love Desired, USA Today bestselling author Stacey Kennedy's latest seductive, electrifying novel of Club Sin, where fantasy becomes reality.

Kyler Morgan, Master at the legendary Club Sin in Las Vegas, knows how to give women what they want—too well. He hasn't had a real challenge in a long time. Then Ella Snow enters his life. Beautiful, inhibited, and innocent in the ways of submission and domination, Ella is the new blood he's been lusting after. Soon, the thrill of training her to embrace his world brings forth desires Kyler cannot control.

After ending an abusive relationship, Ella makes a promise to herself to start living life to the fullest. It's one of the reasons she seeks out Club Sin. Here, Kyler's every touch is a lesson in liberation, stirring passions that have no bounds. But as she falls under Kyler's command, Ella discovers that some secrets are so dark they must come to light. Submission alone may not be enough to save her, leaving her Master with only one question: How can he help Ella heal while unlocking the deep pleasures she craves?

Desired is an erotic romance intended for mature audiences.
Just look at that cover! *fans self* And now, for the exclusive excerpt from USA Today bestselling author Stacey Kennedy:

***EXCERPT***
As the warm breeze brushed over him, he watched Cora's family as her nieces and nephew were dancing with their parents. Then his gaze returned to the blond woman he saw earlier.
Damn, she's a pretty little thing.
She looked as though she'd been plucked out of the fifties, wearing a black-and-white polka-dot dress. Her long hair was swept to the side in a fishtail braid, and on her right arm she had a tattoo of black-and-gray flower from her wrist to midway up her forearm.
Kyler bit back a groan as he scanned down her crossed legs to her black high-heeled shoe dangling from her toes. He took another chug of his beer, reminding himself that a hard cock wasn't appropriate at his friends' wedding.
Forcing his attention to her face, their gazes met. Her cheeks pinkened, her cherry-red painted lips parted, and her eyes went a little wide. Beautiful.
Throughout the ceremony and later at dinner her shy blushing had ensnared him. Watching her wasn't even a choice; it had become imperative. He had to learn more about the woman with the expressive eyes. Her innocence, matched with the way she could barely hold his gaze, suggested one thing: She's vanilla.
He nearly laughed that he'd taken such an interest in a vanilla woman, but he remained trapped in her overtly aroused expression. If he could make her look that hot by not even touching her, how would she look once he got his hands on her?
Responsive.
He liked that.
Those heated reactions attracted him, and he hadn't felt that pull toward a woman in a long time. In fact, he hadn't dated a woman who didn't live the BDSM lifestyle since Club Sin opened its doors four years ago.
He needed a woman who owned her sexuality and went after her fantasies. A woman who enjoyed living a lifestyle that allowed him to indulge in the wicked. He also needed a woman who submitted to him and who melted under his touch.
Vanilla women never did.
"She's a good girl."
Kyler turned and found the groom, Aidan Knight, sitting across from him. All caught up in the woman, he hadn't realized Aidan had joined him. Nor had he known Dmitri had left to dance with Presley. Nope, he'd been consumed by the woman wearing polka dots.
Dressed in a tux, his jet-black hair slicked back from his forehead, Aidan was a commanding figure. Stiff shoulders and stony gray eyes told Kyler the woman was no stranger to Aidan, making her all the more interesting. "Do tell, who is that good girl?"
"My assistant, Ella Snow," Aidan replied with a tight voice.
Ahhhh! We can't wait for more!
***About Stacey Kennedy***
Stacey Kennedy is an urban fantasy lover at heart, but she also enjoys losing herself in dark and sensual worlds. She lives in southwestern Ontario with her husband, who gave her a happily-ever-after. Together, they have two small children who can always make her smile, and who will never be allowed to read Mommy's books. If she's not plugging away at a new story, you'll find her camping, curling up with the latest flick, or obsessing over Sons of Anarchy and Game of Thrones.
Find Stacey Here: Website | Facebook | Twitter | Goodreads
***GIVEAWAY***
Club Sin Desired Giveaway
a Rafflecopter giveaway
Good luck and don't miss the other stops on the Desired tour!
Related Posts