Cinderella Screwed Me Over
by
Cindi Madsen
Also by this author:
Falling for Her Fiancé
,
Resisting the Hero
,
Ready to Wed
,
Second Chance Ranch
,
Getting Lucky Number Seven
,
Anatomy of a Player
,
The Bad Boy's Baby
Published by
Entangled: Select
on October 22, 2013
Genres:
Contemporary Romance
Pages:
400
Goodreads
Buy the Book
Darby Quinn has a bone to pick with Cinderella. Burned one too many times by ex-boyfriends, Darby has lost all belief in the happily-ever-after that the fairy-tale princess promised her. She's sworn off love, Prince Charmings, and happy endings and she's happy about it. Really. Or at least she was…until she met Jake, her gorgeous neighbor and the manager of her favorite restaurant. But Darby has rules about dating, ones she's culled from her years spent with so-called "princes," and starting something with Jake would break all of them.

Charming, fun, and unwilling to give up on her, Jake doesn't fit any of the profiles Darby has created from her case studies of ex-princes-gone-bad. Finally presented with her own Prince Charming, can Darby take a chance on a happily-ever-after?

Full of wit and sarcastic humor, Cinderella Screwed Me Over proves that sometimes the perfect love, like a perfect pair of shoes, is just within your grasp.

Kassiah: I. Loved. This. Book.
I had almost forgotten how much I love Cindi Madsen's style–great descriptions and dialogue with realistic storylines and couples that you actually want to succeed. She outdid herself this time, giving us a strong, swoon-worthy guy and a smart, snarky girl that I felt like I could actually be friends with, all wrapped up with some of my favorite Disney Princesses. ♥
After having a series of failed relationships, Interior designer Darby Quinn decides that Prince Charming isn't out there for her (or anyone) and is through with love when she captures the attention of gorgeous restauranteur Jake Knight. Their very first encounter is the stuff made of fairy tales:
I stepped forward, my thoughts on getting back to my table, when the heel of my stiletto caught. To keep from falling, I had to leave the shoe behind.

"Whoa," I muttered as I recovered from my almost-fall.

I turned around in search of my shoe and saw a guy bend down to retrieve it."

"I think you lost this…"
Sparks immediately fly between them, but Darby's got rules–lots of them, and she isn't looking for love. Lucky for Darby that fate has a way of working itself out. Darby and Jake run into each other everywhere. He owns her favorite restaurant and lives in her building. She keeps trying to resist her attraction to him, but he's persistent.
"Obviously you're beautiful. But there's something different about you that makes me not want to give up."

"You don't even know me," I said.

"And whose fault is that?"

"Cinderella's."

Two creases formed between Jake's eyebrows. "Cinderella's?"

"Yeah, Cinderella screwed me over."
Darby's had her heart broken a few times and relates each one of her break-ups to Disney's leading guys–from Prince Charming to Aladdin to Flynn Rider. She's made case studies about her past relationships to learn some valuable life-lessons (which I loved) and avoid getting sucked back into bad situations. Darby's determined to not allow Jake to get close enough to eventually become another ex, but he's pretty irresistible.
Jake slowed his pace and studied me for a moment. "I guess I just haven't found the right person yet. I t doesn't mean I don't believe she's out there."

"You don't have to pretend you believe in"–I threw up my hands and made air quotes–"'the one'" and falling madly in love to impress me. I wasted too much time believing in all that, so now I'm realistic. the odds of you and me working aren't great."

"But what if we do work out? What if we end up being perfect for each other?"
Can I just say that I loved this guy? He's definitely one of my favorites and I will be adding him to my top-ten list. I love that he's sweet and holds her hand and is affectionate. But I mostly love that he calls her out for her crap, both when she doesn't want to take a chance on being with him and when she tries to turn the tables and compartmentalize his actions. I love that he's also no doormat.
"Maybe if you'd have looked for a reason to be with me instead of dump me, you would've found one."
He's sweet and sexy and protective and I just love him, especially when he says stuff like this:
"I'm so crazy about you that if you asked me to give up watching sports for the rest of my life, I would."
and this:
"Couch or bed?"
I really loved Darby, too. She's smart and isn't afraid to admit when she's feeling vulnerable. I really appreciated that she started to discover that her own rules were dumb and that she didn't actually have everything figured out.
Her friends and family were pretty great, too, especially her brothers. I love that they called her out for being stupid and not giving love a chance. I loved the descriptions Madsen used–she's truly talented, taking us effortlessly from a bustling city to small-town country life. I totally felt like I was there and could really feel familiarity with even the most minor characters.
So, I guess you can tell that I loved everything, right? I did. There were a few things that I didn't like, like her reaction to something in Jake's past. I did love Jake's reaction to that, though, so I guess I did love it after all lol. I also didn't like Darby's reaction to the reemergence of one of her exes, and I would have liked more at the end of the story. Of course, this book has a FTB and I really, really wanted it not to.
Even the dedication is perfect: I hope you learn that you don't need a prince charming to make all your dreams come true, but that you find one anyway. I'm making this as a painting and putting it up in my daughters room. And bonus points to Madsen for her use of "twitterpated". I love her even more, now.
Great storyline, amazing characters, and the perfect amount of romance, all tied up in a princess-worthy sparkly bow. Total win.
Report Card
Cover
Characters
Plot
Writing
Steam
Overall:
5
***EXCERPT***
Jake put his arm over the back of the couch. His fingers grazed my shoulder, then he twisted them in the ends of my hair, sending a tingly sensation along my scalp "Nope.
Just had some experience with stuff like this before."
"You think you've got women all figured out, then, do you?" I asked.
Jake shook his head. "No way. Every time you think you do, they change the rules on you.
Like they could love the way you were yesterday and hate it the next day."
"Every now and then, we change our minds. It's our prerogative. The big secret is"—I leaned in conspiratorially—"sometimes, even we don't know why. There are times after we pick a fight where we're as confused as you are. But there's no way we're admitting it." I shrugged a shoulder. "That's why we have boobs."
Jake's eyebrows shot up.
"See, after we've acted crazy, and the guy's wondering what he's doing with us, we use them to mesmerize him, so he forgets that we're crazy." I shot Jake my most seductive smile and leaned the assets in question against his arm. "And by the way, if you look at my cleavage right now, even though I'm the one talking about it, I'll accuse you of not caring about what I say and of just treating me like an object."
Jake swallowed hard, keeping eye contact with me, though I could tell he was fighting his impulse to look down. A mischievous glint flickered through his eyes. "And treating you like an object would be bad?"
"It depends on how big a deal you make about how smart, funny, talented, etcetera, etcetera I am first."
Jake slid his hand behind my neck and swept his thumb along my jaw. "Have I told you how smart, funny, talented, and etcetera I think you are?"
"You think I'm going to fall for that when I just fed you the lines?" Before he could answer, I kissed him. Using his hand on my neck, he pulled me closer, forcing my lips open with his tongue. His other hand slid up my thigh, and even through jeans, my skin burned from his touch.
***About the Author***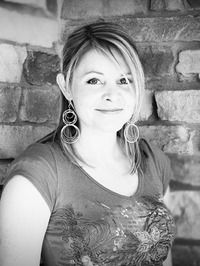 Cindi Madsen sits at her computer every chance she gets, plotting, revising, and falling in love with her characters. Sometimes it makes her a crazy person. Without it, she'd be even crazier. She has way too many shoes, but can always find a reason to buy a new pretty pair, especially if they're sparkly, colorful, or super tall. She loves music, dancing, and wishes summer lasted all year long. She lives in Colorado (where summer is most definitely NOT all year long) with her husband and three children. She is the author of YA books All the Broken Pieces, Cipher, and Demons of the Sun and adult romances Falling for Her Fiancé, Act Like You Love Me, and Cinderella Screwed Me Over.
Find Cindi Here: Website | Facebook | Twitter | Goodreads
***GIVEAWAY***
"Cinderella Prize Pack", which includes a glass slipper keychain, a miniature crystal carriage, playing cards and the movie Ever After
a Rafflecopter giveaway
Related Posts