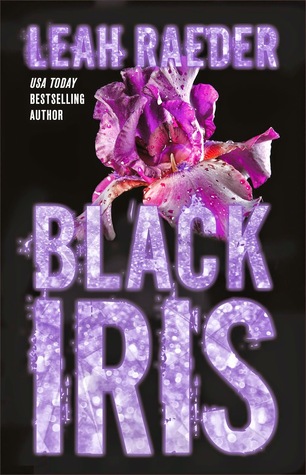 Black Iris
by
Leah Raeder
Also by this author:
Unteachable
Published by
Atria Books
on April 28, 2015
Genres:
Ménage
,
New Adult
,
Romantic Suspense
Pages:
368
Goodreads
Buy the Book
The next dark and sexy romantic suspense novel from the USA Today bestselling author of Unteachable.

It only took one moment of weakness for Laney Keating's world to fall apart. One stupid gesture for a hopeless crush. Then the rumors began. Slut, they called her. Queer. Psycho. Mentally ill, messed up, so messed up even her own mother decided she wasn't worth sticking around for.

If Laney could erase that whole year, she would. College is her chance to start with a clean slate.

She's not looking for new friends, but they find her: charming, handsome Armin, the only guy patient enough to work through her thorny defenses—and fiery, filterless Blythe, the bad girl and partner in crime who has thorns of her own.

But Laney knows nothing good ever lasts. When a ghost from her past resurfaces—the bully who broke her down completely—she decides it's time to live up to her own legend. And Armin and Blythe are going to help.

Which was the plan all along.

Because the rumors are true. Every single one. And Laney is going to show them just how true.

She's going to show them all.
Kassiah: I don't even know where to begin with this review. A million years ago, I read Unteachable and instantly fell in love with Leah Raeder's words. She's raw and poetic, and reading that book truly changed who I was as a reader. That's nothing in comparison to how I feel about Black Iris. I'm speechless.
I'll be the first to admit that I didn't know what this book is about when I started it. And I'm not going to tell you because the journey that gets you there is one of the things that's so amazing about this book. I can tell you that the MC is broken–she believes beyond repair, and right from the very beginning of this story, you'll be entranced.
I know what it feels like to plan something that will destroy you, to be so fucking sure you want it that you arrange everything perfectly, prune the roses while you debate the merits of hanging yourself with nylon rope versus an appliance cord, serve your children baked ziti while your suicide note lies in a desk drawer like a cruel bird of prey waiting to unfold its wings until, one morning when the world is diamond-strung with rain and your daughter is coming home from another night of ruining herself (because you were never there for her, you were never there), you get up before everyone else and calmly step into the garage, and that noose, and eternity.
This story is about a girl and the road she takes to find herself. Sort of.
Leah Raeder is an amazing writer. It's almost lyrical and is definitely visceral. You feel like you're right there with them. This story is a rollercoaster–of emotions, of the way you think your mind works, of everything you thought you knew. It's hot, but if you read Unteachable, you already knew it would be. But it's so much more than that.
"I wish there was one word for what I am. That would be so much easier. People would still hate me, but at least I could say, 'You hate me because I'm gay,' not, 'You hate me because I'm a five on the Kinsey scale, and sometimes I fuck guys but I've only fallen in love with girls.'"
Make no mistake, it's crazy hot. I can't even pick out a part to quote because it's all amazing.
It was very difficult to keep up with the timeline for me, so I suggest spending a few extra dollars and buying the real book instead of the ebook. It's totally worth it, and I think you'll want to flip back and forth and reread some sections. There were parts that got to be too intense for me and I know if I would have put this book down, I wouldn't have been able to pick it back up. It's not my typical kind of read, but it's truly amazing, and I'm so glad I kept going.
Regardless of whether you think this is the book for you or not, I'm telling you that it is. There aren't enough stars for it, honestly. It's real and haunting and just…perfect.
Report Card
Cover
Characters
Plot
Writing
Steam
Overall:
5
Related Posts