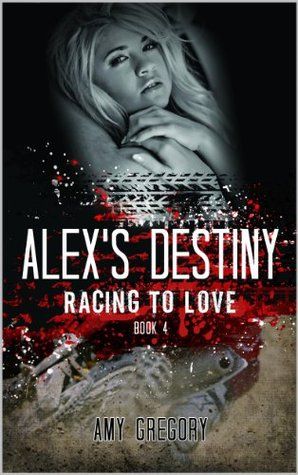 Alex's Destiny
by
Amy Gregory
Series:
Racing to Love #4
Published by
Self-Published
on October 28, 2013
Genres:
Contemporary Romance
Pages:
243
Goodreads
Buy the Book
Her destiny was written for her, long before she was ever born.  She embraced it, wanting nothing more than to give everything within her back to the sport in which she was considered royalty.  Her family's legacy would live on, revered by all.  And she thrived on the long work days she spent teaching at the academy her blood was tied to.  Alexandra Sterling needed that dirt track as much as she needed her next breath.

That same track was the one that drew in a young student years before.  Alex had given her heart away the day they met, knowing that he belonged to only her.   For years she'd waited, knowing without a single doubt that he'd make her his when the time was right.

But…she'd never asked Dallas if he felt the same way.

Her hurt leaves her vulnerable, her days dark and her instincts dulled. After one night of hell, Alex is lost. Her world is crumbling around her, and without her lifeline and best friend beside her anymore, there's nothing to keep her from sinking with it.

Dallas Hunter is a pro rider on the motocross circuit, following in the footsteps of his father Eli. For Dallas, it's always been Alex, but he's kept his feelings locked away out of fear, his love for their family, his biggest obstacle.

One short and chilling phone call to her puts him on high alert. Knowing something is terribly wrong sends him racing across the country, back home, back to her. But what he finds almost kills him.

Now he's watching her slip away right before his very eyes. Figuring out how to help Alex before it's too late, might turn out to be harder than any race he's ever ridden. And he has to do it with his team and sponsors screaming at him from the other side, trying to pull him back to the world he's dedicated his entire life to.

Dallas knows he has to help his best friend, the woman he loves…and do it without tearing his family apart.

Kassiah: I was actually surprised with how much I enjoyed this story! We start out with Alex in the hospital, and Dallas blaming himself for not being able to protect her. We know that something terrible has happened to her, and the next chapter takes us back two weeks prior, where we meet Alex, the twenty-three year old heroine of the book.
Some days she was a pony tail and no make-up kind of girl, some days she was a run-way bomb shell. A princess with manners, and a total tomboy all wrapped up inside the same package. Alex had taken her licks over the years. Between racing, climbing trees, and following [Dallas], Chance, and Jack wherever they went, and doing whatever they could do, she had proven she was made of steel.

Yet, she had a heart of gold.
She's the princess of her family's motocross racing legacy, working long hours to at their academy for young racers. Though she's always had her heart set on one man, Dallas, her uncle's adopted son, she's been too afraid to take that final step to let him know that she's always been in love with him.
Alex knew without a flicker of a doubt Dallas was hers, her soul mate, her best friend, and her future husband. She'd waited for him, never giving the teenage boys who enrolled at their academy a second glance. Once she'd turned sixteen, she turned down dates b the handfuls. Nothing changed when she hit eighteen, twenty-one, or any day since. Alex was waiting for the one man who held her heart in his hands.
Thirty-one year old professional racer Dallas is seven-years-older than Alex and never thought their very-intertwined families would accept his feelings for her. It isn't until Dallas shows up with another woman in tow that he realizes Alex is in love with him, too. He's tired of his job and fighting his feelings for Alex, and he vows to make things right with her as soon as he returns home.
Alex is devastated when she sees the other woman and refuses to even speak to Dallas. He leaves to go back on the racing circuit, and she tries to face day-by-day without Dallas in her life. Levi, a mechanic in the family shop, notices Alex writing in her journal late one night in the office and asks to see it. He discovers that what she's written would make perfect song lyrics and starts writing the accompanying music. Despite the fact that she loves and excels at her job, Alex's passion is music and she's always tried to discern the artists' state of mind while listening to the lyrics of songs. When Levi encourages her to write, it opens up a part of her that she never recognized.
After Alex is brutally attacked late one evening at the office, Dallas vows to do everything within his power to help Alex recover, including finally proving to her how much she really means to him.
I really liked this story. Alex was an authentic character that I admired and understood. Though I thought Dallas's reasons for staying away from Alex were dumb, I got where he was coming from and liked him, too. He was pretty sweet.
"But your career, your dream–"

"Is you."
Alex's Destiny is the fourth book in the Racing to Love Series, and I didn't feel like I was lost at all. One of my favorite things was the easy camaraderie between the characters featured in the books that were previously released in the series.
There were a few things I didn't like. I felt like the beginning was repetitive and could have been cleaned up with a good editor. I didn't understand why Dallas didn't talk to Alex once he realized that she was in love with him. It's not like he's a kid. I thought Alex's thoughts and lack of experience were kind of surprising, but I did understand why that happened.
Also, I loved the end, but I wanted more. I felt like we missed out on some key moments with them, but I won't spoil what those were 🙂 This book has romance and there are some steamy scenes, but there's pretty much a total ftb here. With all that being said, I'm looking forward to reading more from Gregory and will be reading the other books in this series.
Report Card
Cover
Characters
Plot
Writing
Steam
Overall:
3.5
**About Amy Gregory**
When asked 'when do you have time to write', Amy Gregory simply laughs. The real answer is, "in bits and pieces". She and her husband live in Kansas City with their three fantastic kids that keep them running in three very different directions. Because she sits so much, she always carries a notebook with her at all times.
She has an off the wall, snarky, off the cuff sense of humor that often shocks even those who've known her for years. And she loves that her children have all been blessed that ability to make others laugh as well. At least she's grateful most of the time! Her husband often teases her about how she "makes this stuff up" when he's reading a piece of her work. … The answer—"it just comes to me when I'm typing". Scary thought, huh!
Find Amy Here: Website | Facebook | Twitter | Goodreads
***GIVEAWAY***
Win copies of Alex's Destiny!
a Rafflecopter giveaway
Good luck!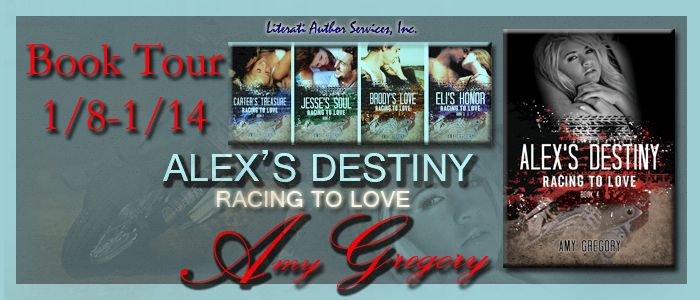 Related Posts