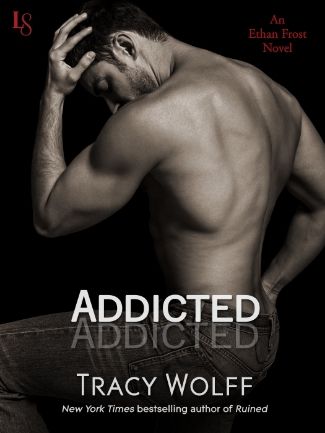 Addicted
by
Tracy Wolff
Also by this author:
Crash Into Me
,
Drive Me Crazy
,
Ruined
,
Exposed
,
Fade Into You
Series:
Ethan Frost #2
Also in this series:
Ruined
,
Exposed
Published by
LoveSwept
on July 15, 2014
Genres:
Contemporary Romance
,
New Adult
Pages:
304
Goodreads
Buy the Book
Ethan Frost returns in the breathtaking conclusion to New York Times and USA Today bestselling author Tracy Wolff's seductive novel Ruined—perfect for fans of Release Me and Bared to You.

As Chloe Girard discovers, there's love . . . and then there's addiction.

Ethan Frost is everything a woman could want in a man. He's rich, gorgeous, powerful, one of the most eligible bachelors in the world.

But that's not why I'm with him.

I love Ethan for all the things no one else gets to see: his innate kindness, his reckless spontaneity, his unwavering determination to use his brilliance for good. I love the way he looks at me, the way he touches me. The way he makes me forget the wreckage of my past and the twisted fear that still lives inside me.

But sometimes it terrifies me how much I crave him, how much I need him just to breathe. I always thought it would be my past that ruined us, but there's a darkness in Ethan I never dreamed existed. Can we survive as his secrets surface—threatening to unravel us both?

Kassiah: This picks up pretty much right after the ending of the first book in the series, Ruined, and just like with that book, there were things that I loved and things that were not-so-much for me. Ethan Frost is back and better and hotter than ever.
"Ethan, I can't take it. I can't–"

"You can," he snarls before circling my clit with his tongue and driving me right up to the edge of another orgasm. "You'll take everything I have to give you, give me everything in return. You'll take until neither one of us has anything left."
Chloe is still annoyingly flip-flopping between "OMG I LOVE HIM" and "I can NEVER see him again!" Luckily, Ethan doesn't let her go easily.
"I know that you still love me. I can see it in your face. I can hear it in the way your breathing stutters when I touch you." He brings a hand between us, rests it on my chest. "I can feel it in the way your heart is beating way too fast, even now. I won't let you walk away from that."
Ethan is just so awesome.
"I can't do this," I tell him. "I'm not strong enough."

"I am," he tells me. "Let me strong enough for both of us. Please, Chloe."
::swoon::
Even though I love this storyline and I love Ethan, I liked Chloe here even less than I did in Ruined. I honestly wanted Ethan to drop her–she needs to go to therapy, for real. I loved loved loved the ending, but I wanted more! I felt like there were a lot of loose ends that should have been tied up for us. We never found out what happened with Brandon and whether Chloe is going to law school next year or not.
Regardless, Tracy Wolff is a brilliant author who writes great characters and steamy hot scenes. This is another quick read, and I think you'll enjoy it. Ethan Frost is totally worth it!
Report Card
Cover
Characters
Plot
Writing
Steam
Overall:
3
***About Tracy Wolff***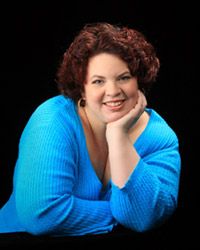 New York Times and USA Today bestselling author Tracy Wolff lives in Texas and teaches writing at her local community college. She is married and the mother of three young sons.
Find Tracy Here: Website | Facebook | Twitter | Goodreads
***GIVEAWAY***
Loveswept is sponsoring a sexy giveaway for ADDICTED!
a Rafflecopter giveaway
Good luck and don't forget to check out the other stops on the Addicted tour!
Related Posts