A Little Too Much by Lisa Desrochers
Series: A Little Too Far #2
Published by William Morrow Impulse on November 12, 2013
Pages: 416
In the follow-up to Lisa Desrochers' explosive New Adult novel A Little too Far, Alessandro Moretti must face the life he escaped and the girl he loved and left behind.

Twenty-two year old Hilary McIntyre would like nothing more than to forget her past. As a teenager abandoned to the system, she faced some pretty dark times. But now that's all behind her. Hilary has her life on track, and there's no way she'll head back down that road again.

Until Alessandro Moretti—the one person who can make her remember—shows up on her doorstep. He's even more devastatingly gorgeous than before, and he's much too close for comfort. Worse, he sees right through the walls she's built over these last eight years, right into her heart and the secrets she's guarding.

As Hilary finds herself falling back into love with the man who, as a boy both saved and destroyed her, she must decide. Past or future? Truth or lies?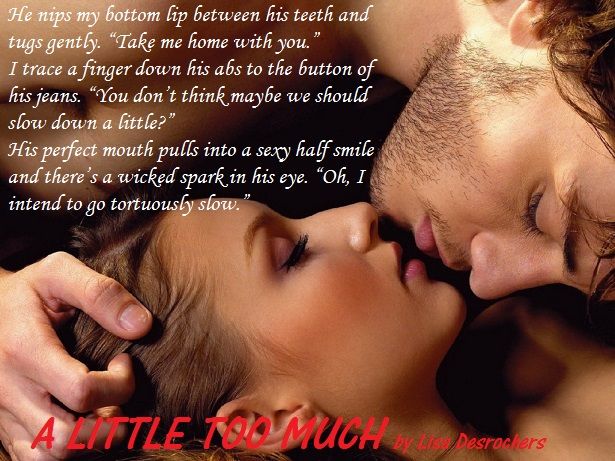 ***About Lisa Desrochers***
Lisa Desrochers lives in northern California with her husband, two very busy daughters, and Shini the tarantula. If you'd told her five years ago she'd write a book, she'd have laughed in your face. As it turns out, she'd owe you an apology. Writing has become an addiction for Lisa and A Little Too Far, courtesy of HarperCollins, is her first novel for adults. She is also the author of the young adult Personal Demons trilogy from Macmillan. When she's not writing, she's reading, and she adores stories that take her to new places, and then take her by surprise.
Find Lisa Here: Website | Facebook | Twitter | Goodreads
***GIVEAWAY***
Thank you to Lisa, we have an awesome giveaway fans following the tour will want to enter to win! Two winners will get six signed NA or YA books plus swag, and two winners will get a silver butterfly pendant and swag. (4 winners total) Signed books by Katy Evans, K.A. Tucker, J. Lynn, Cora Carmack, Victoria Scott, Jay Crownover, Sophie Jordan and Lisa, herself.
a Rafflecopter giveaway
Don't forget to check out the other stops on the tour, hosted by Mundie Girls Tours / Mundie Moms Book Tours.
Related Posts